Alternative News
Articles from non-mainstream as opposed to corporate for profit sources.
Details

Published on Thursday, 24 November 2022 16:25
Written by editor
Email template | Change.orgr1



PAOV — You can make a difference. Sign now to help Michelle protect the Petrie Island wetlands.



Protect Petrie Island Wetlands! / Protégez les zones humides de l'île Pétrie!


2,507 have signed Michelle Petersen's petition. Let's get to 5,000!


Sign now with a click

(Le français suit)
As residents of Orléans and the Ottawa region, we wish to state our serious concerns regarding four proposed high rise residential towers, between 24...
Details

Published on Wednesday, 23 November 2022 16:04
Written by editor
Email template | Change.orgr1



PAOV - Last week, the murder of 9-year-old Kian Pirfalak, who was driving home with his father in Iran, shocked the world.
It's been reported that 56 children have been killed so far as a result of recent protests in Iran. Last week it was third-grader Kian, this week more children's lives are at risk.
A group of healthcare workers have started this petition to Unicef in the hopes of standing up for the innocent children of Iran. Will you support their petition and stand up for the children of Iran by adding your name?



Iranian regime violent targeting of children and adolescents


Read more: Third grader Kian killed on his way home
Details

Published on Wednesday, 23 November 2022 11:55
Written by editor
Protesting the destructive construction work of the "Maya Train"
Sylvia,

We are currently live in Mexico City with our local partner organizations Kanan Derechos Humanos, Racismo MX, Cejil, el Consejo Civil Mexicano Para la Silvicultura Sostenible and Greenpeace México to make a statement against the human and environmental rights violations linked to the construction of the Maya Train.

Together we are installing a plaque and we ask the responsible parties this important question:
Is the destruction of rainforests, the eradication of local animals, such as jaguars, and the eviction of Indigenous people and local communities worth it?
We need you, Sylvia, to make our presence known and our demands as public as possible while we are live on the ground.

You can share the images and footage of our action via Twitter and Facebook:
Details

Published on Wednesday, 23 November 2022 10:07
Written by editor
Email Template r1

PAOV,
Nearly 500 people have already filled out
our 2022 supporter survey
, but
I'm still waiting to hear from

you
.
To build a big enough movement that has the muscle to make lasting change in B.C., it's important Dogwood designs strategies that people like you want to support and participate in.
Help guide our coming year of organizing and campaign work by filling out our survey.
Thank you for sharing your important feedback. What you tell us matters.
Read more: your answers, PAOV
Details

Published on Wednesday, 23 November 2022 08:13
Written by editor
r1
Paov,
Next week we will join our friends Greenpeace Canada and Leadnow to deliver nearly 35,000 petition signatures in support of an oil and gas Windfall Profits Tax.
We plan to rally outside the Prime Minister's office in Ottawa and send a powerful message from the tens of thousands of Canadians calling on Trudeau to tax Big Oil's excess profits and fund a Just Transition.
Paov, we noticed you haven't signed the petition yet. Can you help us make the biggest possible impact by adding your name too? It will only take one minute to sign the petition.
We're reaching this peak in our #TaxBigOil campaign at a pivotal moment in the fight for climate justice. Thanks to a wave of grassroots pressure at the UN climate summit in Egypt, rich nations like Canada agreed to create a Loss and Damage fund to help the most climate vulnerable countries. But, fossil fuel lobbyists still succeeded in undermining the process, making sure that despite calls from 80 countries the final COP27 agreement did not include a commitment to phase down all oil and gas in addition to coal.1
This is...
Details

Published on Wednesday, 23 November 2022 00:39
Written by editor
Palm oil could lead to their extinction. ‌ ‌ ‌ ‌ ‌ ‌ ‌ ‌ ‌ ‌ ‌ ‌ ‌ ‌ ‌ ‌ ‌ ‌ ‌ ‌ ‌ ‌ ‌ ‌ ‌ ‌ ‌ ‌ ‌ ‌ ‌ ‌ ‌ ‌ ‌ ‌ ‌ ‌ ‌ ‌ ‌ ‌ ‌ ‌ ‌ ‌ ‌ ‌ ‌ ‌ ‌ ‌ ‌ ‌ ‌ ‌ ‌ ‌ ‌ ‌ ‌ ‌ ‌ ‌ ‌ ‌ ‌ ‌ ‌ ‌ ‌ ‌ ‌ ‌ ‌ ‌ ‌ ‌ ‌ ‌ ‌ ‌ ‌ ‌ ‌ ‌ ‌ ‌ ‌ ‌ ‌ ‌ ‌ ‌ ‌ ‌ ‌ ‌ ‌ ‌ ‌ ‌ ‌ ‌ ‌ ‌ ‌ ‌ ‌ ‌ ‌ ‌ ‌ ‌ ‌ ‌ ‌ ‌ ‌ ‌ ‌ ‌ ‌ ‌ ‌ ‌ ‌ ‌ ‌ ‌ ‌ ‌ ‌ ‌ ‌ ‌ ‌ ‌ ‌ ‌ ‌ ‌ ‌ ‌ ‌ ‌ ‌ ‌ ‌ ‌ ‌ ‌ ‌ ‌ ‌ ‌ ‌ ‌ ‌ ‌ ‌ ‌ ‌ ‌ ‌ ‌ ‌ ‌ ‌ ‌ ‌ ‌ ‌ ‌ ‌ ‌ ‌ ‌ ‌ ‌ ‌ ‌ ‌ ‌ ‌ ‌ ‌ ‌ ‌ ‌ ‌ ‌ ‌ ‌ ‌ ‌ ‌ ‌ ‌ ‌ ‌ ‌ ‌ ‌ ‌ ‌ ‌ ‌ ‌ ‌ ‌ ‌ ‌ ‌ ‌ ‌ ‌ ‌ ‌ ‌ ‌ ‌ ‌ ‌ ‌ ‌ ‌ ‌ ‌ ‌ ‌ ‌ ‌ ‌ ‌ ‌ ‌ ‌ ‌ ‌ ‌ ‌ ‌ ‌ ‌ ‌ ‌ ‌ ‌ ‌ ‌ ‌ ‌ ‌ ‌ ‌ ‌ ‌ ‌
Sylvia,
25 orangutans will die today. Just like yesterday, and tomorrow.
Palm oil deforestation is killing the last orangutans on our planet, and if we don't act now, there won't be any left by the end of the decade.
Orangutans need trees to live. But profit-hungry companies are tearing down and burning their rainforest homes — all so the likes of Mondelez and Nestlé can put palm oil in products like snacks and detergents.
But with your help, we can save the last orangutans from cheap palm oil.
Together we've convinced McDonald's, Starbucks, and PepsiCo to commit to no-deforestation palm oil policies. You can help us do it all again — a donation from you today will help roll out tried and true winning tactics to transform the whole industry — before the orangutans are gone forever. Can I count on you to chip in?
If you've saved your payment information with...
Details

Published on Tuesday, 22 November 2022 18:14
Written by editor
CoDev Canada 2022 Annual Holiday Party r1 ...
Details

Published on Tuesday, 22 November 2022 17:20
Written by editor
Toxic bonds are propping up the dirtiest companies on earth - and none more so than KEPCO.
KEPCO is a major polluter issuing billions of dollars in bonds to fund its reliance on coal. But we can cut them off.
Will you add your voice and call on global investors to boycott KEPCO's toxic bonds?
Sylvia,
Last month I emailed you about bonds. Not the 007 kind of bond, but the toxic bonds that are financing climate disaster. $4.4 trillion of dirty bonds have been issued by fossil fuel companies since the Paris Climate Agreement was signed.
But Sylvia - you have the power to change that.
Meet KEPCO: South Korea's largest energy company. It generates almost all its power from coal and gas. And in the last few years has built coal mines in Indonesia, Vietnam and the Philippines. With stories of...
Details

Published on Tuesday, 22 November 2022 13:33
Written by editor
Please take two minutes to fill out this survey.

---
For a nonprofit news organization like The Intercept, it's our readers who matter most.
We rely on you to read, share, and support our investigative and adversarial journalism.
So as we plan for next year, we need your feedback, especially on what topics you think are most important for our reporting.
Please take our two-minute survey.
Here's the first question: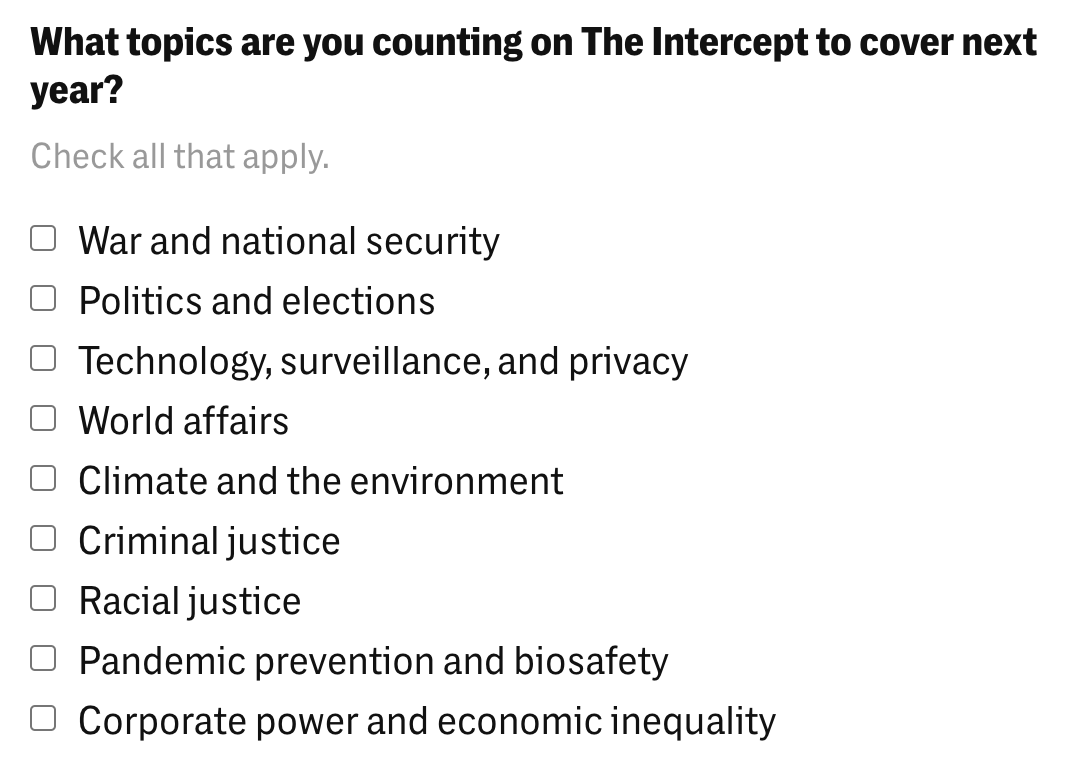 Thank you for taking the time to share your thoughts.

Thank you, The Intercept team
First Look Institute is a 501(c)(3) charitable organization (tax ID number 80-0951255).
The Intercept's mailing address is:
First Look Institute
P.O....
Details

Published on Monday, 21 November 2022 13:21
Written by editor
Email template | Change.orgr1



PAOV – this petition is taking off on Change.org, and we think you might be interested in adding your name. Sign now to help:




Nominate Iranian Women for Nobel Peace Prize for courageously arising for Women's Right

Nassim Bayat started this petition to Richard J. Durbin, and it now has 33,760 signatures

Sign now with a click

For the...
Details

Published on Sunday, 20 November 2022 23:39
Written by editor
2x your donation ‌ ‌ ‌ ‌ ‌ ‌ ‌ ‌ ‌ ‌ ‌ ‌ ‌ ‌ ‌ ‌ ‌ ‌ ‌ ‌ ‌ ‌ ‌ ‌ ‌ ‌ ‌ ‌ ‌ ‌ ‌ ‌ ‌ ‌ ‌ ‌ ‌ ‌ ‌ ‌ ‌ ‌ ‌ ‌ ‌ ‌ ‌ ‌ ‌ ‌ ‌ ‌ ‌ ‌ ‌ ‌ ‌ ‌ ‌ ‌ ‌ ‌ ‌ ‌ ‌ ‌ ‌ ‌ ‌ ‌ ‌ ‌ ‌ ‌ ‌ ‌ ‌ ‌ ‌ ‌ ‌ ‌ ‌ ‌ ‌ ‌ ‌ ‌ ‌ ‌ ‌ ‌ ‌ ‌ ‌ ‌ ‌ ‌ ‌ ‌ ‌ ‌ ‌ ‌ ‌ ‌ ‌ ‌ ‌ ‌ ‌ ‌ ‌ ‌ ‌ ‌ ‌ ‌ ‌ ‌ ‌ ‌ ‌ ‌ ‌ ‌ ‌ ‌ ‌ ‌ ‌ ‌ ‌ ‌ ‌ ‌ ‌ ‌ ‌ ‌ ‌ ‌ ‌ ‌ ‌ ‌ ‌ ‌ ‌ ‌ ‌ ‌ ‌ ‌ ‌ ‌ ‌ ‌ ‌ ‌ ‌ ‌ ‌ ‌ ‌ ‌ ‌ ‌ ‌ ‌ ‌ ‌ ‌ ‌ ‌ ‌ ‌ ‌ ‌ ‌ ‌ ‌ ‌ ‌ ‌ ‌ ‌ ‌ ‌ ‌ ‌ ‌ ‌ ‌ ‌ ‌ ‌ ‌ ‌ ‌ ‌ ‌ ‌ ‌ ‌ ‌ ‌ ‌ ‌ ‌ ‌ ‌ ‌ ‌ ‌ ‌ ‌ ‌ ‌ ‌ ‌ ‌ ‌ ‌ ‌ ‌ ‌ ‌ ‌ ‌ ‌ ‌ ‌ ‌ ‌ ‌ ‌ ‌ ‌ ‌ ‌ ‌ ‌ ‌ ‌ ‌ ‌ ‌ ‌ ‌ ‌ ‌ ‌ ‌ ‌ ‌ ‌ ‌ ‌
Sylvia,
We've been so successful using shareholder action to get companies to change their bad behaviour...that they're trying to shut the whole program down!
After a SumOfUs shareholder resolution helped force Apple to publish its first-ever human rights policy, the US stock regulator made a new rule -- anyone who wants to bring this kind of resolution will need to hold thousands of shares...and companies are setting VERY early deadlines to buy them!
They're trying to silence everyone but the richest shareholders. But Sylvia, we can beat them at their own game.
We already bought shares in giants like Apple, Nestle, and Bayer Monsanto. Now if 5000 people reading this email chip in the cost of a coffee, SumOfUs can buy enough shares in Procter & Gamble to have our say at its AGM, ratcheting up the pressure over rampant deforestation and human rights abuses in its palm oil...
Details

Published on Sunday, 20 November 2022 16:20
Written by editor
Details

Published on Saturday, 19 November 2022 23:38
Written by editor
...but dogs could stop this slaughter ‌ ‌ ‌ ‌ ‌ ‌ ‌ ‌ ‌ ‌ ‌ ‌ ‌ ‌ ‌ ‌ ‌ ‌ ‌ ‌ ‌ ‌ ‌ ‌ ‌ ‌ ‌ ‌ ‌ ‌ ‌ ‌ ‌ ‌ ‌ ‌ ‌ ‌ ‌ ‌ ‌ ‌ ‌ ‌ ‌ ‌ ‌ ‌ ‌ ‌ ‌ ‌ ‌ ‌ ‌ ‌ ‌ ‌ ‌ ‌ ‌ ‌ ‌ ‌ ‌ ‌ ‌ ‌ ‌ ‌ ‌ ‌ ‌ ‌ ‌ ‌ ‌ ‌ ‌ ‌ ‌ ‌ ‌ ‌ ‌ ‌ ‌ ‌ ‌ ‌ ‌ ‌ ‌ ‌ ‌ ‌ ‌ ‌ ‌ ‌ ‌ ‌ ‌ ‌ ‌ ‌ ‌ ‌ ‌ ‌ ‌ ‌ ‌ ‌ ‌ ‌ ‌ ‌ ‌ ‌ ‌ ‌ ‌ ‌ ‌ ‌ ‌ ‌ ‌ ‌ ‌ ‌ ‌ ‌ ‌ ‌ ‌ ‌ ‌ ‌ ‌ ‌ ‌ ‌ ‌ ‌ ‌ ‌ ‌ ‌ ‌ ‌ ‌ ‌ ‌ ‌ ‌ ‌ ‌ ‌ ‌ ‌ ‌ ‌ ‌ ‌ ‌ ‌ ‌ ‌ ‌ ‌ ‌ ‌ ‌ ‌ ‌ ‌ ‌ ‌ ‌ ‌ ‌ ‌ ‌ ‌ ‌ ‌ ‌ ‌ ‌ ‌ ‌ ‌ ‌ ‌ ‌ ‌ ‌ ‌ ‌ ‌ ‌ ‌ ‌ ‌ ‌ ‌ ‌ ‌ ‌ ‌ ‌ ‌ ‌ ‌ ‌ ‌ ‌ ‌ ‌ ‌ ‌ ‌ ‌ ‌ ‌ ‌ ‌ ‌ ‌ ‌ ‌ ‌ ‌ ‌ ‌ ‌ ‌ ‌ ‌ ‌ ‌ ‌ ‌ ‌ ‌ ‌ ‌ ‌ ‌ ‌ ‌ ‌ ‌ ‌ ‌ ‌ ‌
Sylvia,
In the legendary Serengeti, almost a quarter of the elephants live in a tiny area protected by a team of just 10 specially-trained rescue dogs and their handlers.
They sniff out poachers and sound the alarm -- the dogs have helped arrest hundreds of poachers already, saving countless elephants being murdered for ivory. But outside the Serengeti, poaching is on the rise and there are thousands more elephants that still need protection.
That's why the team behind this amazing project is asking for your help to train more dogs and double the number of sites where these sniffer dogs are working -- and save double the number of elephants, in the Serengeti and beyond.
With 96 of these gentle giants killed each day, every moment counts.
Can you chip in to help?
If you've saved your payment information with SumOfUs, your donation will go through immediately:
Details

Published on Saturday, 19 November 2022 15:22
Written by editor
Email template | Change.orgr1



PAOV — "Those that don't die from the abuse spend their miserable lives trapped with dead birds at their feet." Global hospitality company Millennium Hotels received praise and profit when they pledged to end the use of small and cruel cages for chickens in their supply chains. However, they are now failing to report on their progress. Open Wing Alliance (OWA) says these chicken cages are so small that birds are unable to move or spread their wings. The chickens suffer fractured bones, deformities, and are often trampled to death. OWA is holding Millennium Hotels accountable to their promises. Sign today to join them.



Demand Accountability from Global Companies Profiting from Cage-Free Promises!

Read more: Torturing chickens?