Details

Published on Sunday, 29 November -0001 16:00
Written by editor
r1
Download this newsletter in PDF.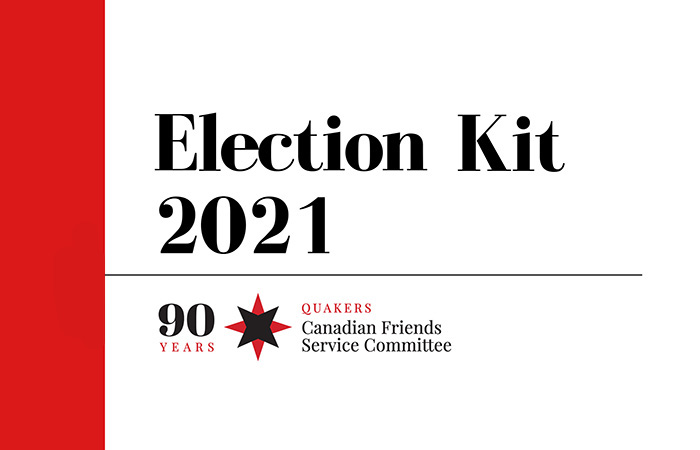 2021 Federal Election Kit Launched
An election has been called for September 20. Canadian Friends Service Committee has released a new kit to help you ask candidates informed questions about the issues we work on. You can read the kit at https://quakerservice.ca/2021Election or download it in PDF to make it easier to print and share.

This infographic explains why we need to abolish prisons
CFSC developed an infographic for Prisoners' Justice Day (August 10th) explaining why Canada needs to abolish prisons. Have a look: https://quakerservice.ca/AbolishPrisons
The infographic is ideal for sharing on Twitter or Facebook.
CFSC is particularly concerned that when parents are incarcerated, children's rights are often ignored. More than 100 organizations, including CFSC, have provided evidence to Canada about on-going children's rights issues.
In August the Canadian Coalition for the Rights of Children (CCRC), which includes CFSC and many other organizations, sent an open letter noting a pattern within the government of Canada of "blaming other jurisdictions instead of taking seriously the duties we all share to create conditions where children can realize their full potential…"
Welcoming our new Finance Assistant, Priscila!
CFSC is excited to welcome Priscila Recinos to our small staff team. Priscila studied Business at Mohawk College. She has many years of financial and office administration experience in government, for-profit, and nonprofit settings, including with the Elizabeth Fry Society of Southern Ontario. You can reach her at This email address is being protected from spambots. You need JavaScript enabled to view it.." target="_blank" title="This email address is being protected from spambots. You need JavaScript enabled to view it.." style="text-decoration: underline; color: #D2222B;" rel="noopener">This email address is being protected from spambots. You need JavaScript enabled to view it..
Priscila is taking over for Megan Shaw, who decided not to return to CFSC after her maternity leave. We wish Megan all the best in her future endeavours.
Canada: Stop arming Saudi Arabia
A new tool from the Canada-wide Peace and Justice Network (of which CFSC is a founding member) makes it easy for Canadians to email their Members of Parliament to ask that Canada 1) stop arming Saudi Arabia and 2) support factories to convert from deadly weapons production to peaceful green production so that jobs aren't lost: https://peaceandjusticenetwork.ca/emailyourmp/
Popular workshop series starts again Sep 14
The tenth offering of our popular peace-skill-building workshop series Are We Done Fighting? begins on September 14. Sessions will be on Tuesdays from 10:30 am to noon Eastern over six consecutive weeks.
A few spaces remain. Please help us in spreading the word and inviting people who might be interested in this free interactive learning opportunity! More details and registration at https://quakerservice.ca/register
If this timing does not work for you but you would like to participate, we plan to offer the series again on Wednesday evenings. We need 10 more registrants before scheduling that. You can get on the waitlist for Wednesdays using the same link r0 | Manage email preferences