Details

Published on Saturday, 06 October 2018 13:06
Written by editor

...



PAOV — Urban beekeeping and bee-friendly cities not only save bees, but also play a crucial role in the health of municipal environments and a city's food security strategy. Petition starter Dinah is urging our nation's capital, Ottawa, to set the example by becoming bee-friendly today. You can help by adding your name below.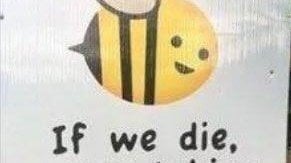 Petitioning Ottawa City Council
ottawa city council: Ottawa needs to become a Bee Friendly City

Petition by Dinah Robinson
Ottawa, Canada 17,168
Supporters

Sign now with a click

I want Ottawa to be declared a Bee Friendly City by the next Council. I believe the Bee City designation should be a priority project in support of the City's commitment to Healthy and Caring Communities and Economic Prosperity. I am not running in the election but this is my personal campaign platform.
There are currently 19 Bee Cities in Canada. Toronto City Council voted unanimously in favour of the motion way back in 2016. They were the first official Bee City in Canada. Ottawa is still not on the list.
The time for action in YOW is NOW.
Let's take the sting out of urban beekeeping, by:
Recognizing urban beekeeping is an important part of the City's food security strategy
Educating the public about the benefits of all pollinators
Increasing pollinator gardens and the maintenance of existing greenspaces
Mitigating the risks
Working with the province and other municipalities to change the regulatory framework
I will be coordinating the project, providing the initial seed funding and developing a network of volunteers and community sponsors. No funding will be required from the City. I also plan to start doing this on a full-time basis to support the sustainability of the project and expand its reach.
I've got the Buzz. I want you to get the Buzz. I want Ottawa to get the Buzz. Share the Buzz. Save the Bees!!

r0 ·
s42> ·
Privacy policy
This email was sent by Change.org to s6, because you registered as a Change.org user on 01/09/2011. We'd love to hear from you! Send us feedback or contact us through our help centre.
Change.org · 548 Market St #29993, San Francisco, CA 94104-5401, USA