Details

Published on Friday, 25 January 2019 15:18
Written by editor
body.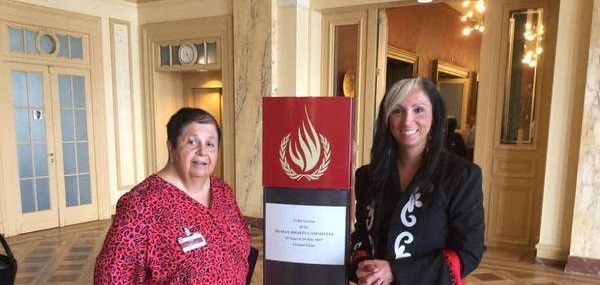 Earlier this month, the United Nations Human Rights Committee (UNHRC) wrapped up a case that resulted in a landmark legal victory for First Nations women in Canada.
In a case brought forth by Sharon McIvor, the UNHRC found that Canada still discriminates against Indigenous women and their descendants in the registration provisions of the Indian Act.
Before amendments passed in 1985, First Nations women registered under the Indian Act lost their status after marrying a man without status. Their children were also denied Indian status under the act.
McIvor, whose First Nations' grandmother had married a non-Indigenous man, found that following the 1985 amendments, she and her children were denied full status but her brother and his descendents were not.
McIvor filed her case with the UNHRC in 2010, when after proving her case at trial and on appeal in Canada, the federal government refused to eliminate sex discrimination from the Indian Act.
The UNHCR's decision has given Canada 180 days to take steps to remove the discrimination.
Pamela Palmater
writes that "Canada cannot claim to stand as a champion of human rights in the global context while continuing to deny First Nations women and children basic human rights."
In other feminist news on rabble this week,
Brent Patterson
brings us the story of an Indigenous women's collective in Guatemala organizing to defend Indigenous women's rights and the land.
Read an excerpt from
Tarah Brookfield
's new book Our Voices Must be Heard: Women and the Vote in Ontario, for an inside look at the suffrage movement's triumphs in northern Ontario and the movement's exclusion of Black and Indigenous women.
On January 19, women across the world marched on the second anniversary of the historic Women's March. Check out the
Activist Toolkit
's compilation of stories from marches and associated actions in communities across Canada.
And coming up next week, an "
emerging democracy
" conference features a panel with women in government and civil society.
Can you afford $1/month to support rabble? Click here!
TOP CONTENT THIS WEEK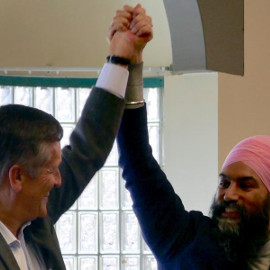 Svend Robinson, former MP and veteran progressive, is returning to the electoral arena with plans to tackle climate change, housing affordability and Big Pharma. Robinson will run in the Burnaby North-Seymour riding, where he faces the formidable challenge of flipping Liberal incumbent Terry Beech's seat.
Alex Cosh
reports from Robinson's announcement this week, where he declared to a packed room: "I am running to put climate change and global warming at the top of our political agenda, and to demand that we mobilize the same way we mobilize nationally to fight a war."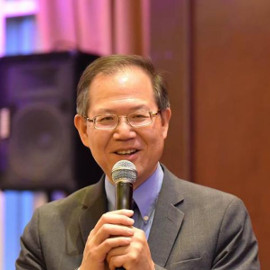 The federal Liberal party named Richard Lee, who served for nearly two decades in right-of-centre B.C. governments, as its new candidate to face off against NDP Leader Jagmeet Singh in the upcoming Burnaby South byelection on February 25. "Their choice shows how politics can make strange bedfellows," writes politics reporter
Karl Nerenberg
.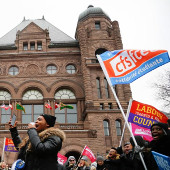 The Doug Ford government in Ontario has continued its attack on post-secondary education in Ontario. Last week, the government announced a plan to make ancillary fees optional. In the
latest episode
of rabble radio, listen to Hildah Otieno, the executive director of the Canadian Federation of Students in Ontario, discuss why this policy will severely limit students' ability to have their voices heard on campus.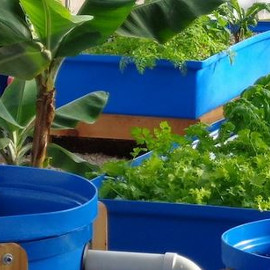 News from our In Cahoots partners:

Public service workers scored a victory after years of pressure from PSAC and its membership. The government has finally proposed tax legislation to fix a major part of the Phoenix pay system fallout. "One way or another, we will have to negotiate solutions to our issues," says CUPW president Mike Palecek. "This is far from over." Food Secure Canada applauds the release of the new Canada's Food Guide.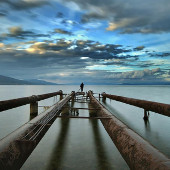 A recent
poll
found over half of Canadians think lack of pipeline capacity is a national crisis. "They can be forgiven for this," writes
David Suzuki
. "The company that owns a near monopoly on newspapers in Canada, aided by politicians and fossil fuel interests, has put significant effort into convincing them."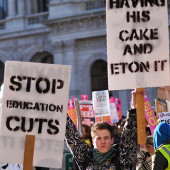 And more! Here are the top five items of interest on rabble this week!
1. The best solution to gun violence in Canada?
An outright ban on handguns.
2.
Listen to the latest RadioLabour episode
about Ontario's changes to post-secondary education.
3. Indigenous communities are
resisting a proposed massive infrastructure project.
4. A wonkish look at how
MPs identify primary and secondary residences.
5. The credibility of the Canadian Taxpayers Federation is in question
after an election financing fine.
Please donate to support rabble. Click here.
rabble.ca