Details

Published on Wednesday, 05 June 2019 12:12
Written by editor


Dear FVC Supporter,

The federal election is now just 113 days away.
In June 2015, Justin Trudeau made a historic promise that inspired voters from coast to coast - to end first-past-the-post and make every vote count.

In 2017, rejecting the evidence of 88% of the experts, Trudeau told Canadians that if you disagree with his decision to break his promise, "That's what elections are for."

This election is our chance to rise to that challenge together.
With your generous support, we're building a campaign that will move votes, inspire hope and get electoral reform back on the table!
Will you chip in for three high-impact video ads now?
Yes, I'll help buy three video ads!
Our campaign ads will focus on the key messages to drive votes for electoral reform this election: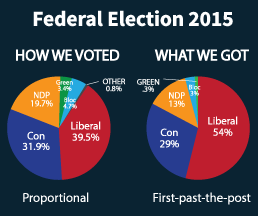 The Broken Promise
Electing MPs who will fight for proportional representation is crucial. In a minority government, these MPs could hold the balance of power.
In our target ridings, we'll run a hard-hitting ad with emotional impact, urging voters to choose candidates we can trust on PR. With your support, we'll hire a company whose ad went viral in 2018!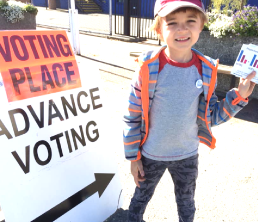 Electoral Reform and Climate Change
This has been called Canada's "climate change election."

When it comes to the climate crisis, we're out of time for the destructive politics of first-past-the-post. There's simply no more time left to waste on policy reversals.
Scientist tell us we have 11 years to get it right, and nine million voters say climate action will be their first or second voting issue.
Yet first-past-the-post means that every four years, a party with 39% of the vote can completely destroy any progress.

Proportional representation has never been more important. Only proportional representation will ensure that parties must cooperate to create climate policy that's built to last.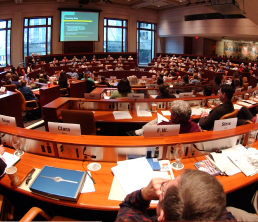 A National Citizens' Assembly on Electoral Reform
Fair Vote Canada is leading the call for a bold and innovative idea - a National Citizens' Assembly on Electoral Reform.
Citizens' assemblies put real power back in the hands of citizens to decide - not political parties and vested interests.
Around the world, citizens' assemblies are driving change on complex and challenging issues, where politicians have reached a political impasse.
A National Citizens' Assembly on Electoral Reform is a process Canadians can trust, to build the consensus we need. With your support, we can get this idea in front of candidates and voters in every riding this election!

This is our chance
For those of us who care deeply about proportional representation, this is an election like no other. We won't get this chance again.

The last time a federal Liberal government promised proportional representation and failed to deliver was almost 100 years ago.
Rarely a day or two goes by now where the media does not mention the broken promise of electoral reform.
With your generous support, we can seize this opportunity, keep electoral reform in the national spotlight this fall, and elect MPs who will take action on proportional representation in a new government!
Fair Vote Canada is funded by you - citizens who care about a democracy that includes everyone.
Together, we can do this - but there's no time to waste. Please chip in for federal campaign ads now.

With gratitude,
Anita Nickerson
Executive Director, Fair Vote Canada
P.S. Our Annual General Meeting in Ottawa is on June 8 - register here!
DONATE
Fair Vote Canada

88 North Drive




Kitchener

,

ON

N2M 1K8




Canada