Details

Published on Friday, 26 June 2020 07:22
Written by editor
r1

À LIRE
Comment suivre le concert « Global Goal: Unite for Our Future » où que vous soyez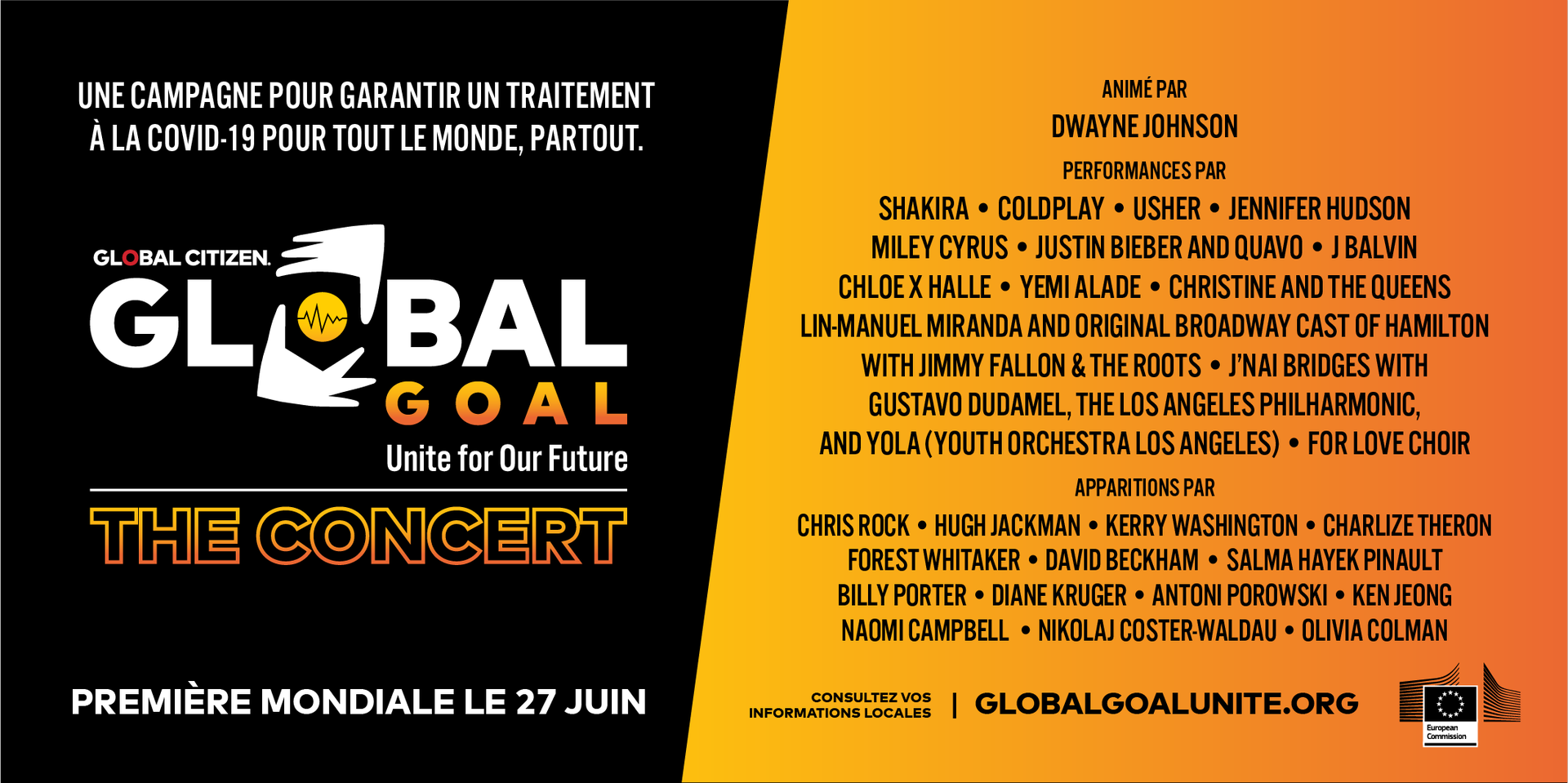 Ces dernières semaines, nous avons demandé aux gouvernements, aux philanthropes et aux entreprises de veiller à ce que les tests, les traitements et les vaccins contre la COVID-19 soient accessibles à tous, partout. Pour célébrer ce que nous avons accompli, l'émission spéciale « Global Goal: Unite for Our Future » sera présentée en première mondiale ce week-end.
En apprendre plus
Continuez à lire
Voici les participants à « Global Goal: Unite for Our Future » qui aideront tout le monde, partout, à battre la COVID-19
Animé par Dwayne Johnson, le concert comprendra des prestations des artistes du monde entier. →
Christine and the Queens vient de demander à la France de réagir équitablement à la COVID-19
La star française a adressé un tweet au président Emmanuel Macron, lui demandant de soutenir un accès équitable au vaccin COVID-19. →
11 grandes questions sur la COVID-19 que vous n'osez sûrement pas poser
Cela fait quelques mois que le monde entier s'est replié sur lui-même pour se protéger de la COVID-19, mais de nombreuses questions restent toujours sans réponse. →
Découvrez comment nous avons surmonté les précédentes épidémies
Ne répétons pas les erreurs du passé. Laissons-les guider notre réponse à la COVID-19, pour que personne ne soit laissé pour compte. →
Dites aux dirigeants mondiaux : Assurez-vous que la relance post-COVID-19 soit équitable
Notre réaction à la COVID-19 doit permettre de construire un monde plus égalitaire et non de creuser les inégalités.
This email address is being protected from spambots. You need JavaScript enabled to view it."/>
This email address is being protected from spambots. You need JavaScript enabled to view it."/>
This email address is being protected from spambots. You need JavaScript enabled to view it."/>
This email address is being protected from spambots. You need JavaScript enabled to view it."/> Text us! +1 (917) 540-5575

Global Citizen Canada
1050 King St. W.
Toronto, ON M6K 0C7
This email address is being protected from spambots. You need JavaScript enabled to view it.
Vous ne désirez plus recevoir nos courriels? Pour vous
désabonner
ou
modifier vos paramètres de courriel
.
Affichez sur le Web.
Global Poverty Project, 594 Broadway #207 New York, NY 10012