Details

Published on Monday, 31 August 2020 08:02
Written by editor
I'm still somewhat stunned by the news: our short film Message From the Future with Alexandria Ocasio-Cortez has been nominated for an Emmy award, in the category of Outstanding News Analysis: Editorial and Opinion.

It's an incredible honor for a film that started off with a simple question: what if we actually pulled off a Green New Deal? What would the future look like?
This project seemed to strike a chord precisely because it didn't just name the multiple crises we face, but dared to imagine the world we want to build. And this is central to our work at The Leap. We see the Green New Deal as an emergency plan to confront climate change while creating millions of good, unionized jobs, expanding the public services and infrastructure that make our communities healthier, and dismantling the racism and economic inequality that structure so much of how we live together now.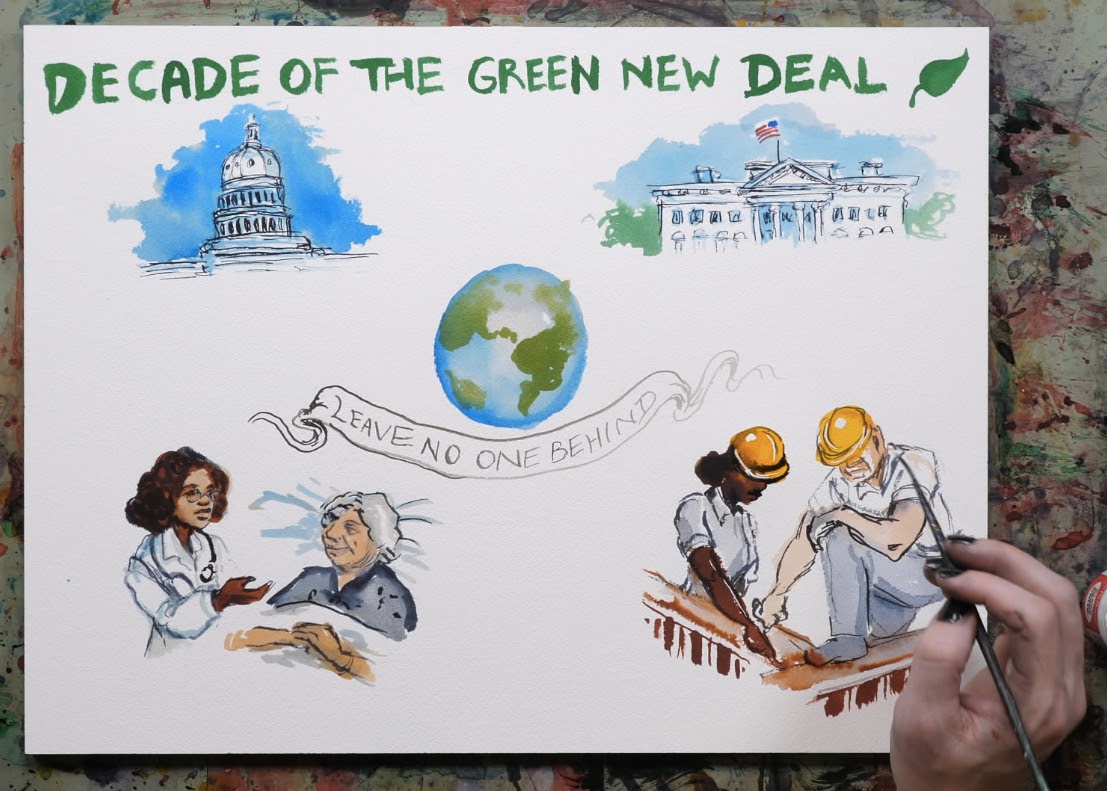 When Congresswoman Alexandria Ocasio-Cortez agreed to co-create the film with us, I knew we were onto something big. Working with artist Molly Crabapple and her team, our partners at The Intercept, and Naomi Klein and all of us at The Leap, we had reason to hope that our experiment in "radical futurism" would make a splash. But we were thrilled and surprised by the response: our film has now been viewed almost 12 million times, and activists and organizations from around the world have written to tell us that it directly inspired their work.
And now, this: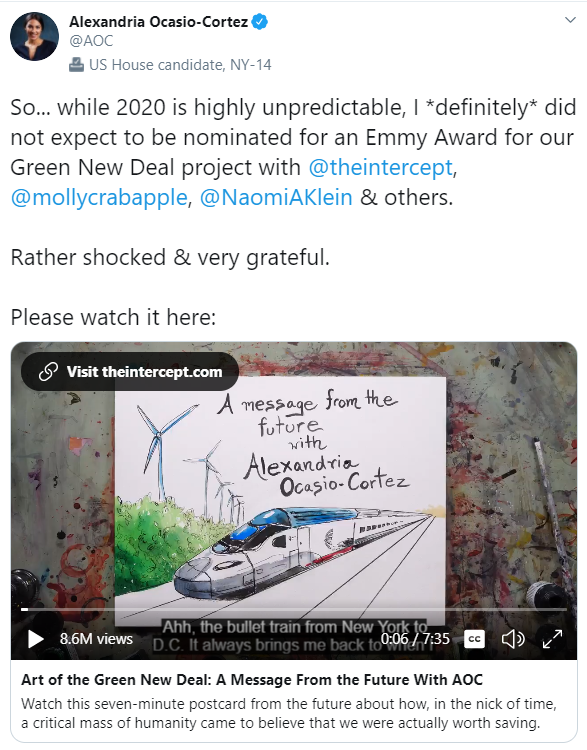 My friends: we couldn't do this kind of work without your support -- so from the bottom of my heart, thank you. Thanks to everyone who watched and shared the video, to those who wrote to tell us how it moved you, and a tremendous thank you to everyone who has donated to The Leap. You make this work possible.
On that note, I'm thrilled to share one more piece of good news: we're working on a sequel! Message From a Pandemic: The Years of Repair, co-written with Black Lives Matter co-founder Opal Tometi, tells the story of the world we could build out of 2020's upheaval. It will premiere in just a few weeks.
So here's the ask: would you consider donating to The Leap today to help us bring Message From a Pandemic: The Years of Repair into the world, and create more projects like it? Your support keeps us independent, flexible, and accountable to YOU --- and any amount helps.
Thank you for celebrating with us today, and stay tuned for the Emmy ceremony on September 20th, and the sequel launch in the days after. Stay safe, and take care of each other!
In passionate solidarity,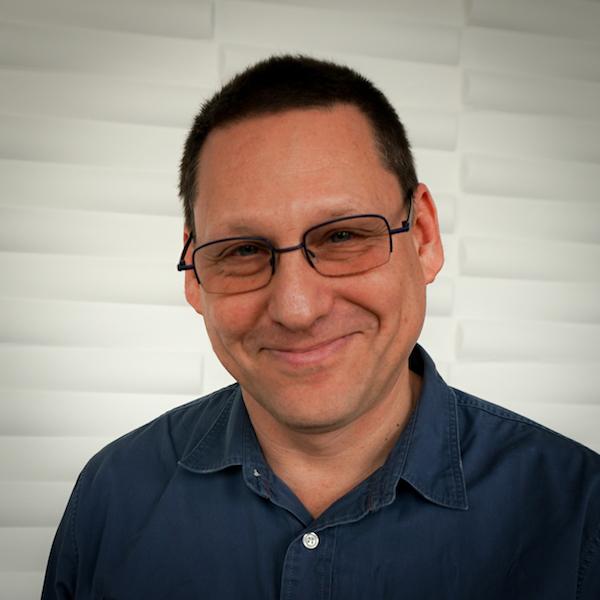 Avi Lewis
Strategic Director, The Leap
P.S. And if you haven't already: watch and share our Emmy-nominated(!) short film, Message from the Future