Details

Published on Thursday, 03 September 2020 09:48
Written by editor
We just passed the renewal deadline ‌ ‌ ‌ ‌ ‌ ‌ ‌ ‌ ‌ ‌ ‌ ‌ ‌ ‌ ‌ ‌ ‌ ‌ ‌ ‌ ‌ ‌ ‌ ‌ ‌ ‌ ‌ ‌ ‌ ‌ ‌ ‌ ‌ ‌ ‌ ‌ ‌ ‌ ‌ ‌ ‌ ‌ ‌‌ ‌ ‌ ‌ ‌ ‌ ‌ ‌ ‌ ‌ ‌ ‌ ‌ ‌ ‌ ‌ ‌ ‌ ‌ ‌ ‌ ‌ ‌ ‌ ‌ ‌ ‌ ‌ ‌ ‌ ‌ ‌ ‌ ‌ ‌ ‌ ‌ ‌ ‌ ‌ ‌ ‌ ‌‌

Monday was Trans Mountain's final deadline to secure the insurance it needed to proceed with its climate-wrecking pipeline – a controversial project which would transport dirty tar sands oil all the way from Alberta to the coast of British Columbia.

And though we won't know for sure which insurance companies renewed their coverage until the official certificate is published next April – I do know one thing. Thanks to this campaign, we are closer to stopping the pipeline than we've been in a very long time.
Let me explain.
Back in 2019, we realized that taking on the insurance industry may just be one of our best strategies for stopping the Trans Mountain pipeline, and stopping the expansion of the entire tar sands industry.
Because without insurance, the pipeline cannot go ahead. And as more and more companies start to live up to their climate commitments and refuse to insure tar sands projects, the harder it is for not only Trans Mountain – but any future pipelines – to get the backing they need. (Yep, the world of insurance can actually be super exciting
For anyone who needs reminding, the Trans Mountain tar sands pipeline is a toxic project that, if built, would make it impossible for Canada to meet its climate commitments. It has failed to obtain the Free, Prior, and Informed Consent of impacted Indigenous communities, and several Nations have been fighting the pipeline in court for many years. What's more, there is an estimated 87% chance of an oil spill along the British Columbia coast if this project were to go through. Were that to happen, it could push the 73 remaining southern resident killer whales into extinction.
For all these reasons and more, the Stand.earth community mobilized in enormous numbers last year to pressure insurance companies to drop Trans Mountain – and got very close to getting Zurich, the pipeline's biggest insurer, to drop out.
So earlier this year, we launched a renewed push to un-insure Trans Mountain. And this time, we had major success.
After nearly 17,000 people signed the petition calling on Zurich once again to drop Trans Mountain – the company caved! Getting Trans Mountain's biggest insurer to drop out, just weeks before the renewal deadline, was a major blow to the beleaguered project and left them scrambling to find a replacement.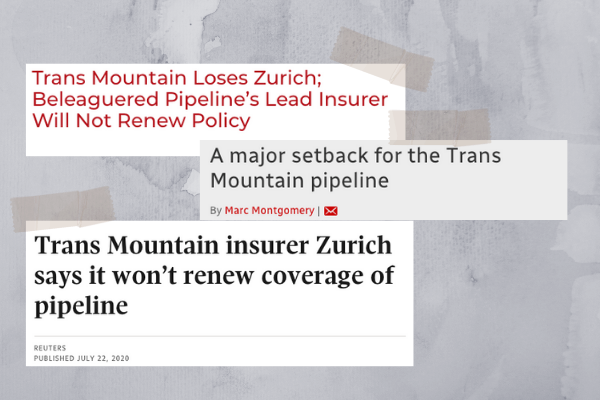 Our press release, and resulting media coverage of this major win.
Zurich wasn't the only insurer to drop Trans Mountain this summer: its decision came after two other companies announced they would drop out, in response to letters we sent urging them to cut ties with the pipeline.
With 3 out of 11 insurers abandoning Trans Mountain in quick succession, we knew that momentum was building – but we had to keep up the pressure. Insurance giants Liberty Mutual, Chubb, AIG, and Lloyd's were all still major backers of the pipeline.
So the Stand community did what we do best. We turned up the heat.
We hand-delivered petition signatures from over 151,000 people (!!!) to Liberty Mutual and Chubb's office in Vancouver – with parallel deliveries happening in cities around the world.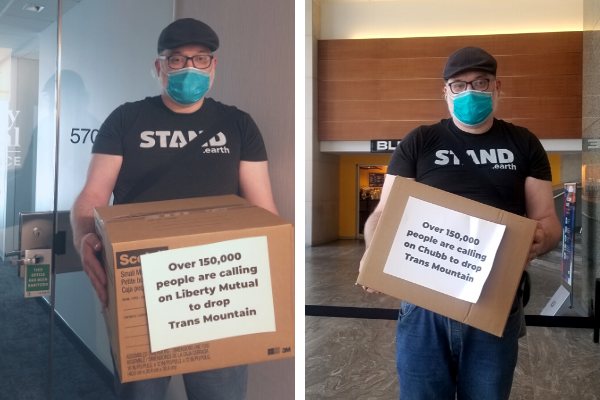 That's me, delivering your signatures to Liberty and Chubb's offices in Vancouver.
That wasn't all – over 11,000 people sent letters to insurance company CEOs (bet it took them a looong time to clear out their inboxes