Details

Published on Tuesday, 06 October 2020 08:02
Written by editor
Voting in a pandemic is new for all of us. ‌ ‌ ‌ ‌ ‌ ‌ ‌ ‌ ‌ ‌ ‌ ‌ ‌ ‌ ‌ ‌ ‌ ‌ ‌ ‌ ‌ ‌ ‌ ‌ ‌ ‌ ‌ ‌ ‌ ‌ ‌ ‌ ‌ ‌ ‌ ‌ ‌ ‌ ‌ ‌ ‌ ‌ ‌‌ ‌ ‌ ‌ ‌ ‌ ‌ ‌ ‌ ‌ ‌ ‌ ‌ ‌ ‌ ‌ ‌ ‌ ‌ ‌ ‌ ‌ ‌ ‌ ‌ ‌ ‌ ‌ ‌ ‌ ‌ ‌ ‌ ‌ ‌ ‌ ‌ ‌ ‌ ‌ ‌ ‌ ‌‌

What does a surprise election plus a global pandemic mean for voter turnout in BC? Voter turnout could reach a record low this year.

So with election day just weeks away, we're doing everything we can to get important information out to climate voters like you on how to cast your ballot – despite the unusual circumstances.

Here's the 411: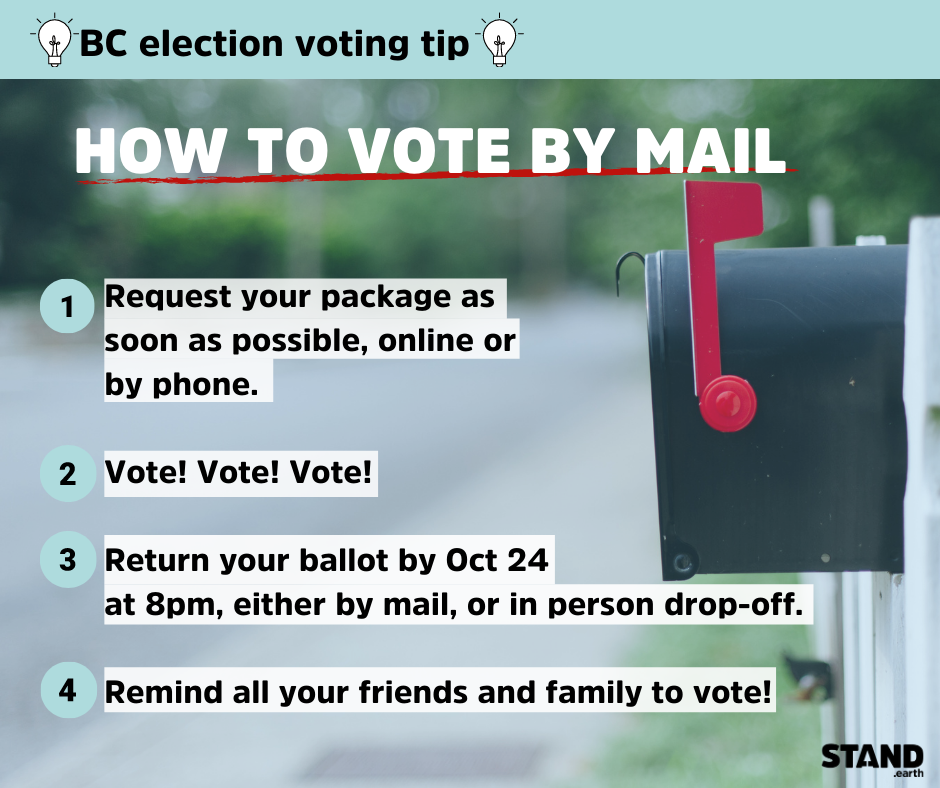 Last election, the BC NDP scraped into government by signing an agreement with the Greens. This election, the world is entirely different from what it was three years ago. There's no saying what could happen on October 24th. So make sure you let your fellow climate voters know about the option to vote by mail, and keep reminding them to make a plan for casting their ballot.
We're less than two weeks into the election period, but momentum is already building. Nearly 900 Stand.earth members have put their hands up to play a role in this election campaign. In the past week alone, we've sent hundreds of letters to the leaders of the major parties to urge them to stop fossil fuel expansion and actually have a plan for meeting our climate targets. Thousands have signed petitions calling on parties to immediately ban logging in the most at-risk old growth forests. Dozens of people have participated in webinars about how to get involved. More are hard at work texting thousands of Stand members with important voting information, and starting to request meetings with their candidates. This is an incredible effort, and I'm so grateful to you for being a part of it.
If we keep up this pace, I'm certain we'll make a huge impact.
With hope,
Solaye Snider
Canadian Digital Campaigner
Stand.earth
P.S. The survey we sent out last week showed that 90% of the Stand online community thinks our next government needs to do better at protecting our environment. But candidates will just keep promoting the status quo unless they feel the pressure from people like you. Will you take a minute and email the leaders of the major parties right now to demand they commit to stronger climate action in their party platforms?
---
Stand.earth challenges corporations, industries, and governments to prioritize the well-being of people, our environment, and our climate by creating long-term, effective solutions. None of this work is possible without your support.
DONATE $5
San Francisco office: 650 California Street, 7th Floor, San Francisco CA 94108
On traditional Chochenyo and Karkin Ohlone Lands
---
Bellingham office: 1329 N State St., Bellingham, WA 98225
On traditional Lummi and Nooksack Lands
---
Vancouver office: 151 West Hastings Street, Vancouver BC, V6B1H4
On Unceded Territories of the
səl̓ílwətaʔɬ
, xʷməθkwəy̓əm, and Skwxwú7mesh Nations