Details

Published on Friday, 19 March 2021 18:08
Written by editor
Halt the sale of crown land, investigating Ducks Unlimited, and support Métis organizers r1 Hi Paov
This has been a trying year for so many of us. With Spring Equinox just around the corner, the arrival of a new season inspires renewed energy. Here are some pressing issues that need our support!
Sign the Petition #LandBack
"They stole our lands and now they are selling off all that remains of the Crown lands so that there is no land left for our people." -FSIN vice-chief Heather Bear
This petition includes signatures from many prominent organizations, including
Idle No More
, Office of the Treaty Commissioner, National Farmers Union, Saskatchewan Federation of Labour, and Black Lives Matter YXE, calling for the halt of crown land sales in SK. As Treaty... people, it is our duty to ensure that Indigenous rights are upheld, which can only be accomplished by nurturing the ecosystems and land base upon which these rights depend.
"People forget that these are treaty lands that belong to Indigenous title holders," says Sylvia McAdam, a law professor and founding member of Idle No More. "They should not be viewed as ceded lands".
Join us in our commitment to honour the Treaty relationship, protect natural landscapes, and ensure that all people have access to land for both leisure and livelihood by
signing the petition today,
or contact
This email address is being protected from spambots. You need JavaScript enabled to view it.
to add your organization's endorsement.
Ducks Unlimited continues to purchase and destroy land
"You can go after Manitoba Hydro, but it seems like we can't go after Ducks Unlimited." -Elder Pat Personius
Since 1937 Crown land has been transferred to the American corporation Ducks Unlimited (DU) under the guise of protecting wetlands and waterfowl. However, DU has not increased waterfowl numbers but rather has caused irreparable damage to the Saskatchewan River Delta through the creation of man-made channels, dams, water diversions and other infrastructure. Animal habitats have been destroyed and the livelihoods of Indigenous and northern trappers, farmers and fishers have been negatively impacted.
Read the latest piece in Briarpatch Magazine about how DU "controls more land and water that all First Nations combined and deserves its own chapter in the story of colonial water control in Canada."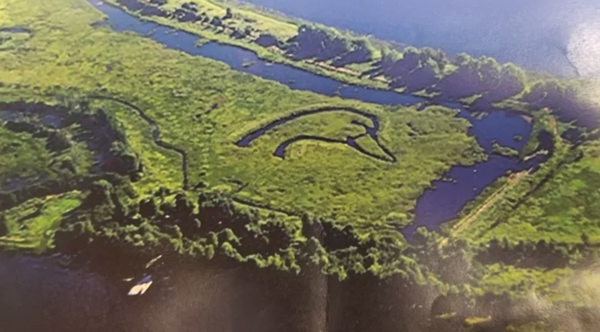 Massive Ducks Unlimited logo carved into landscape to honor former DU President and oil barren Arthur Irving. Image from CBC news.
Métis citizens call for action
"We are part of a growing movement on our homelands that recognizes that our people – and all peoples – are stronger and safer without colonial cops continuing to terrorize and brutalize us." -Grassroots Métis organizers
Earlier last weekend, David Chartrand, President of the Manitoba Metis Federation (MMF),
took out a full page ad
in the Winnipeg Free Press praising the work of Winnipeg Police Service's Chief Danny Smyth. Grassroots Métis organizers are calling for the MMF to retract their statement while standing "with the family of Eishia Hudson and all those who have been victims of the Winnipeg police force." The organizers are
calling for signatures from fellow concerned Métis citizens, and solidarity from non-Métis BIPOC signatures. All are welcome to share the petition in support.
Thank you for all your continued support. Happy Spring Equinox from all of us at Idle No More.


331 Cooper St Suite 601
Ottawa Ontario K2P 0G5
CANADA
r5 |
Change Subscriber Options