Details

Published on Friday, 19 March 2021 19:10
Written by editor
r1
Paov,
Yesterday, 500 people tuned in to our virtual town hall to join together in asking: what happened to the Just Transition Act the Liberals promised last election?
We invited Trudeau's Minister of Environment and Climate Change, Jonathan Wilkinson, to address that question at yesterday's town hall, but he declined to attend. We asked him if he could join us at a future date, or simply provide a written update on the Just Transition Act, but we still haven't heard back. Our offer still stands.

That's why today, we're amping up the pressure by pushing our MPs to take a position on the Just Transition Act.
Help us build momentum in support of a Just Transition Act within Parliament. Email your MP now.
Even though Wilkinson declined our invitation, Green Party Parliamentary Leader Elizabeth May and NDP Environment and Climate Change Critic Laurel Collins were there to provide some insights on where this legislation might have gone. They both talked about how they have repeatedly raised the just transition question in the House of Commons. Collins explained that, when she pressed Wilkinson's office for an update,... his team said the legislation their boss had previously billed as among his top priorities is actually the responsibility of the Ministry of Natural Resources.1 Yet the Minister responsible for that portfolio, Seamus O'Regan, hasn't publicly mentioned the Just Transition Act once. May and Collins agreed that, more likely than not, the Liberals are simply hoping this is another broken election promise voters will forgive and forget.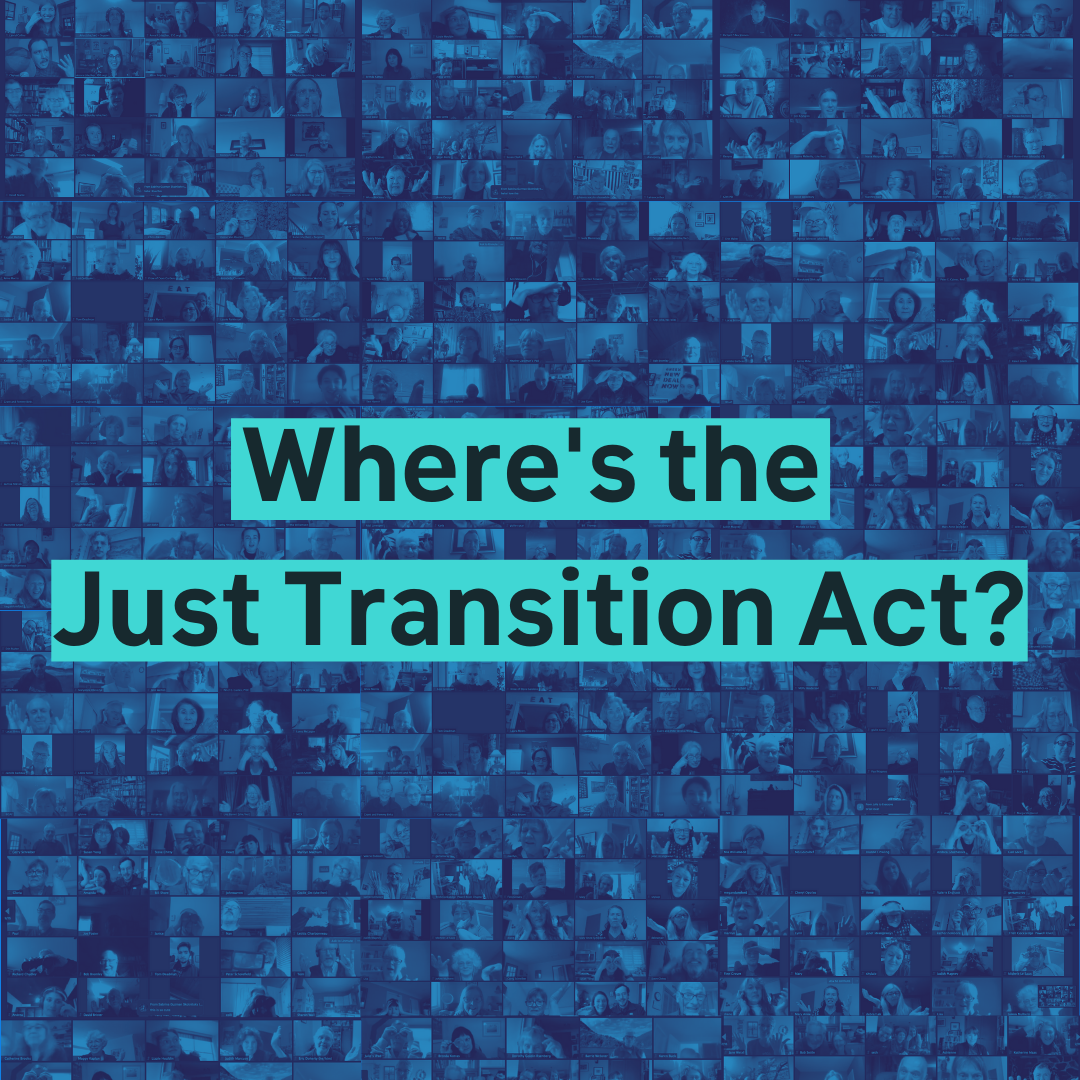 We can't let that happen. The stakes of the climate emergency are just too high. Both of our guests yesterday emphasized that mass mobilization is the most effective way to force politicians to act on their words. As May put it, "we need to raise hell." Ironically, Wilkinson said pretty much the same thing at another event he attended earlier in the day yesterday, telling the audience that "we need young peoples' advocacy to push people like myself and [MP Irek Kusmierczyk] to go further, faster."
I wish our elected officials had the guts to act with the urgency climate scientists and concerned citizens are already calling for. If someone's house is on fire, does the fire department ask them to stage a protest or do they step in to put it out? We elect politicians to look out for our best interests and, when it comes to climate, the fact that the Liberals talk the talk doesn't excuse the fact that their actions are falling tragically short.
Email your MP now and tell them to champion a Just Transition Act.
Today, young people across Canada are participating in the Global Climate Strike with #NoMoreBrokenPromises as their unifying theme. That's fitting, because it was soon after attending the Montreal climate strike in September 2019 that Justin Trudeau first pledged to pass a Just Transition Act. Now, as rumours swirl about another federal election, possibly within a matter of months, voters need to know: can we trust Trudeau's Liberals to keep their climate promises?
Onwards,
Chris
PS - If you joined our Just Transition Act town hall yesterday, thank you for taking the time to participate in this important conversation. If you didn't get a chance to attend, you can view the full recording here.
---
1: iPolitics: "First environmental action for Liberals could include 'Just Transition Act', strengthening CEPA"
---
350.org is building a global climate movement. You can connect with us on Facebook, follow us on Twitter, and r38