Details

Published on Wednesday, 07 April 2021 16:10
Written by editor
r1 The campaign is heating up, are you ready to amp up the pressure? ‌ ‌ ‌ ‌ ‌ ‌ ‌ ‌ ‌ ‌ ‌ ‌ ‌ ‌ ‌ ‌ ‌ ‌ ‌ ‌ ‌ ‌ ‌ ‌ ‌ ‌ ‌ ‌ ‌ ‌ ‌ ‌ ‌ ‌ ‌ ‌ ‌ ‌ ‌ ‌ ‌ ‌ ‌‌ ‌ ‌ ‌ ‌ ‌ ‌ ‌ ‌ ‌ ‌ ‌ ‌ ‌ ‌ ‌ ‌ ‌ ‌ ‌ ‌ ‌ ‌ ‌ ‌ ‌ ‌ ‌ ‌ ‌ ‌ ‌ ‌ ‌ ‌ ‌ ‌ ‌ ‌ ‌ ‌ ‌ ‌‌
r33

Hey friend, it's been a hot minute since we last connected about Charmin, huh? Well, I got news!
Last month, Procter & Gamble—the $70 billion global corporation that owns the Charmin brand – finally announced its new forestry commitments in response to the concerns raised by shareholders at the company's annual meeting in October 2020. So, what are these commitments? Increased transparency and increasing its FSC certification.
While at first glance, the commitments might read pretty good, they don't address how the company will end its role in the degradation of intact primary forests and threatened species habitat, and associated human rights abuses in its supply chains. And frankly, these "new" commitments do not take in the concerns raised by environmental groups and its shareholders.
But this is our opportunity to push P&G to scale up its commitments before it fully launches these initiatives this summer. We have a plan to go full throttle, but our campaign tactics are only as strong as our online community.
friend, will you... add your name to this petition calling on P&G to stop working with suppliers who are destroying critical caribou habitat and working without the Free, Prior, and Informed Consent of Indigenous communities?
SIGN PETITION
For the past few months, our team, alongside youth organizers in Cincinnati have been exposing P&G's greenwashing and pushing it to do more for the forests. Just last week, we took over one of the busiest intersections in downtown Cincinnati to do a pirate radio action, blasting P&G's lackluster commitments and calling on the corporation's hometown to rally for real action against deforestation.
We've handed out hundreds of postcards, informing people of the issue, deployed light projections around Cincinnati on prominent buildings, and stickered high foot traffic areas, all while cooking up more strategies to get our demands in front of P&G's executives.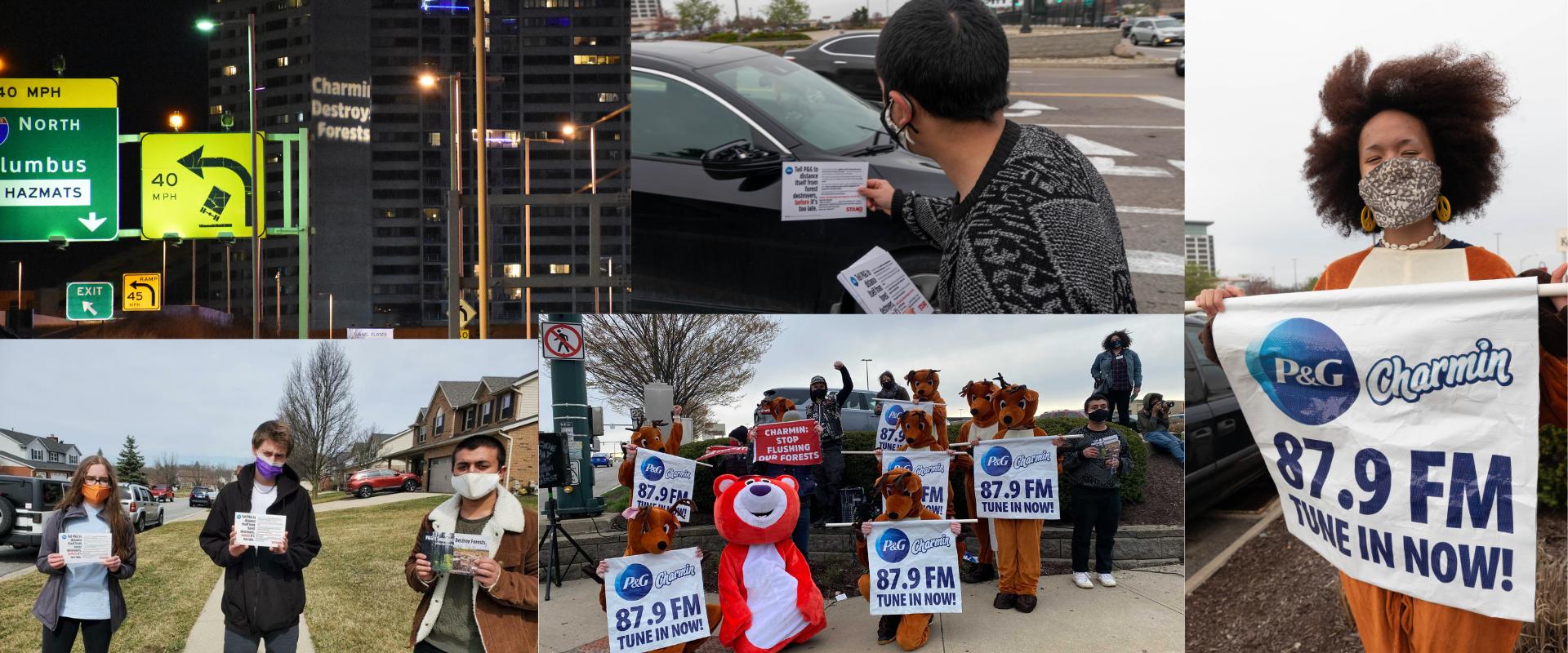 In the coming weeks and months, we have a series of online actions planned, *ahem ahem* webinars, online ads, and a new website. But we need to make sure, our team is ready and primed to take action. 1st step? Blowing up our petition to P&G to flex our community power. Over 51k Stand.earth members have signed, but we know there are thousands of other Stand members who are passionate about this issue.
Sign the petition to P&G now to urge it to make better commitments to lessen its impact on intact forests and caribou habitat.
Thank you for being part of this campaign and part of the Stand online community. Our community is more than 500,000 people strong and growing – and together, we're using our collective power to fight climate change, protect wild spaces, stand with impacted communities, and say no to new fossil fuels.
With hope, and gratitude,
Erdene Batzorig
Digital Campaigner
Stand.earth
P.S. Our coalition partner, NRDC just released an illuminating report on some of P&G's suppliers and the effects of logging in the boreal forest. Read here to find out why P&G's supply chain is more problematic than the company lets on.
---
Stand.earth challenges corporations, industries, and governments to prioritize the well-being of people, our environment, and our climate by creating long-term, effective solutions. None of this work is possible without your support.
DONATE $5
San Francisco office: 548 Market Street, Suite 74196, San Francisco, CA 94104-5401
On traditional Chochenyo and Karkin Ohlone Lands
---
Bellingham office: 1329 N State St., Bellingham, WA 98225
On traditional Lummi and Nooksack Lands
---
Vancouver office: 5307 Victoria Drive, Suite 347, Vancouver, BC V5P 3V6
On Unceded Territories of the
səl̓ílwətaʔɬ
, xʷməθkwəy̓əm, and Skwxwú7mesh Nations
---
r80