Details

Published on Saturday, 10 April 2021 16:58
Written by editor
r1 Forests are being burned for electricity, disguised as the clean energy future ‌ ‌ ‌ ‌ ‌ ‌ ‌ ‌ ‌ ‌ ‌ ‌ ‌ ‌ ‌ ‌ ‌ ‌ ‌ ‌ ‌ ‌ ‌ ‌ ‌ ‌ ‌ ‌ ‌ ‌ ‌ ‌ ‌ ‌ ‌ ‌ ‌ ‌ ‌ ‌ ‌ ‌ ‌ ‌ ‌‌ ‌ ‌ ‌ ‌ ‌ ‌ ‌ ‌ ‌ ‌ ‌ ‌ ‌ ‌ ‌ ‌ ‌ ‌ ‌ ‌ ‌ ‌ ‌ ‌ ‌ ‌ ‌ ‌ ‌ ‌ ‌ ‌ ‌ ‌ ‌ ‌ ‌ ‌ ‌ ‌ ‌ ‌‌
r33

Dear ,
An investigation in Northern British Columbia just captured footage of whole trees in wood pellet plant yards, about to be milled and burned for electricity overseas. This is disguised as green energy, but burning wood pellets is dirtier than coal at the smokestack.
Unions, scientists and non-profit organizations are coming together to try and halt the wood pellet industry in its tracks because it's not only threatening primary forests and the climate, but also local jobs. A mass petition could expose this industry for what it really is: a false climate solution and environmental disaster.
Over 18,000 people have already signed the petition calling on decision makers to stop logging whole trees for wood pellets – will you join them and add your name?
ADD YOUR NAME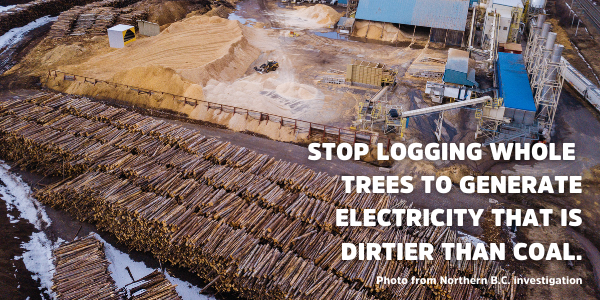 Governments internationally have played a hard game of deception around the wood pellet industry, calling it 'clean power' and claiming that only waste wood is used. We need to show them that the public will not be fooled and act fast to protect forests from being turned into a highly polluting fuel.
The more numbers on this petition, the stronger our message will be. Can you help by adding your name right now?
Thanks for standing up for these forests,
Tegan Hansen
Forest Campaigner
Stand.earth
---
The original email I sent you:
Dear ,
Forests are being burned for electricity, and the emissions are dirtier than coal. You read that right: the wood pellet industry is being promoted as 'clean power', but that couldn't be farther from the truth.
We are seeing more and more whole trees from primary forests in Canada being chopped down to produce wood pellets that are then exported around the world.
Amidst an ever growing climate crisis, we simply can't afford to keep chopping down primary forests – a critical carbon sink – to make a fuel that emits more carbon dioxide at the stack than coal. Yet the wood pellet industry is being subsidized by governments internationally to the tune of billions of dollars a year. We need people around the world to speak out against this destruction before the wood pellet industry explodes.
Will you sign the petition calling on decision makers to stop logging whole trees for wood pellets?
SIGN NOW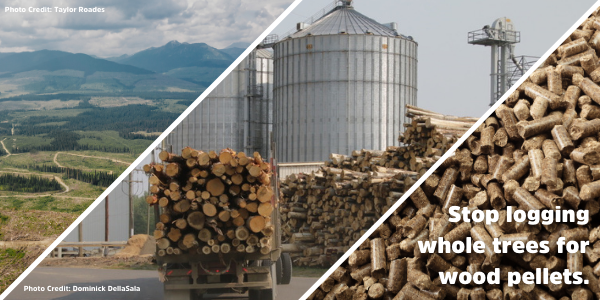 Canada is the second largest exporter of wood pellets in the world. In British Columbia, Canada, the forests primarily being logged for wood pellets have already been devastated by commercial logging. Less than five percent of productive, old rainforest remains.
It can take centuries for forests to regain the majority of their carbon storage after being logged, but still, billions are being spent annually in the European Union to subsidize the burning of wood in place of coal. Japan is following suit, projecting huge increases in their consumption of wood pellets in the years to come.
You can see where we're going with this. If the wood pellet industry continues to be sold as the 'clean energy revolution,' these forests will be in big trouble.
This trajectory needs to be stopped by a worldwide public outcry right now, otherwise we're looking at a colossal release of carbon dioxide emissions at the exact moment we need to be cutting them back. That's why we're calling on Stand members internationally to help expose this false climate solution and demand that decision makers do better to protect at-risk forests and the climate.
Add your name to the petition urging decision makers to protect at-risk forests from the claws of the wood pellet industry.
Protecting forests is in our DNA, back from when we were founded more than 20 years ago as ForestEthics. Together, we have won necessary protection for at-risk areas like the Great Bear Rainforest. Now we're ready to do it again, and build a groundswell of public opposition standing together to protect primary forests from being turned into wood pellets.
Our team is fewer than 50 people, but this community is more than 450,000 people strong and growing. With this much people power, we know we can keep irreplaceable forests off the chopping block – helping us to fight climate change, stand with impacted communities and enshrine Indigenous rights as we collectively remap forestry management in the long term.
Thanks for standing up for these forests,
Tegan Hansen
Forest Campaigner
Stand.earth
---
Stand.earth challenges corporations, industries, and governments to prioritize the well-being of people, our environment, and our climate by creating long-term, effective solutions. None of this work is possible without your support.
DONATE $5
San Francisco office: 548 Market Street, Suite 74196, San Francisco, CA 94104-5401
On traditional Chochenyo and Karkin Ohlone Lands
---
Bellingham office: 1329 N State St., Bellingham, WA 98225
On traditional Lummi and Nooksack Lands
---
Vancouver office: 5307 Victoria Drive, Suite 347, Vancouver, BC V5P 3V6
On Unceded Territories of the
səl̓ílwətaʔɬ
, xʷməθkwəy̓əm, and Skwxwú7mesh Nations
---
r80