Details

Published on Friday, 04 June 2021 16:16
Written by editor
r1
Download this newsletter in PDF.


Videos now available from evening with TRC Commissioners
As part of the Faith in the Declaration coalition, CFSC helped organize and moderate a very popular event with the Commissioners of Canada's Truth and Reconciliation Commission.
Zoom only allowed 1,000 people to join live but hundreds more were on the waitlist. We're pleased to announce that videos of this event are now available!
Following the event, Mennonite Church Canada published an article prominently quoting the Commissioners and CFSC staff Jennifer Preston.
The Global Indigenous Rights Research Network (of which CFSC is a founding member) also released an important report on Bill C-15 and the implementation of Indigenous rights in Canada.
Take Action
Please consider emailing Senator Dan Christmas to show your support for Bill C-15. Visit https://www.faithinthedeclaration.ca/take-action-1 for a template and easy-to-follow steps to write to Senator Christmas.
Your support is urgently needed!
Add your voice to the call to cancel the purchase of new fighter jets
An analysis (PDF) by the No Fighter Jets campaign looks at the total cost of acquiring, running, maintaining, and disposing of 88 new fighter jets. It says that Canada would be on the hook for some $76.8 billion dollars! That's not to mention the costs to human lives. A new Parliamentary e-petition (which any Canadian who is so led can sign) calls on Canada to cancel this purchase.
Among other major issues, the petition notes: "The Department of National Defence is the largest emitter of greenhouse gases (GHG) among all federal departments, yet all military vehicles and operations are exempt from the federal government's GHG emission reduction plan."
You can find out more information and see a template for writing to your Member of Parliament at https://NoFighterJets.ca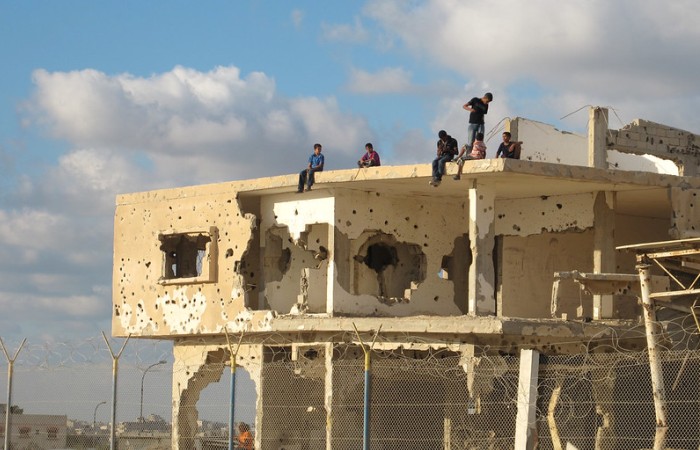 Gaza, 2011, credit UN Photo/Shareef Sarhan CC-BY.
CFSC dismayed by situation in Israel/Palestine, renews call for Canada to end military relationship with Israel
Canadian Friends Service Committee is dismayed at the current events in Israel/Palestine. For the past several weeks, Israel's police and some violent settlers have been attacking peaceful Palestinian protesters in the old city of Jerusalem. Palestinians were protesting the forced evictions from the East Jerusalem neighbourhood of Sheikh Jarrah, which are illegal under Geneva Convention IV. Furthermore, Israeli police targeted the sit-down protest at the Damascus Gate and worshipers in the al-Aqsa Mosque and then subsequent protests in the West Bank....
Keep reading this open letter: https://quakerservice.ca/StopArmingIsrael

CFSC joins call for "landmark" Senate study on penitentiaries to be released
CFSC joined in a letter to Canada's Standing Senate Committee on Human Rights regarding their "landmark" 2018 Interim Report: Study On The Human Rights Of Federally-Sentenced Persons. The letter requests that the Committee expand the report and complete it.
The letter notes that this is particularly pressing as the review should help to shed light on the ongoing use of solitary confinement (now called Structural Intervention Units) and the harmful impacts of penitentiaries' responses to the COVID-19 pandemic (for more about this see our r0 | Manage email preferences