Details

Published on Sunday, 29 November -0001 16:00
Written by editor
s52
From:
Erdene Batzorig, Stand.earth
This email address is being protected from spambots. You need JavaScript enabled to view it.
>
r50s2">s2>
Will you get on board so we can vote P&G board members off? ‌ ‌ ‌ ‌ ‌ ‌ ‌ ‌ ‌ ‌ ‌ ‌ ‌ ‌ ‌ ‌ ‌ ‌ ‌ ‌ ‌ ‌ ‌ ‌ ‌ ‌ ‌ ‌ ‌ ‌ ‌ ‌ ‌ ‌ ‌ ‌ ‌ ‌ ‌ ‌ ‌ ‌ ‌ ‌ ‌‌ ‌ ‌ ‌ ‌ ‌ ‌ ‌ ‌ ‌ ‌ ‌ ‌ ‌ ‌ ‌ ‌ ‌ ‌ ‌ ‌ ‌ ‌ ‌ ‌ ‌ ‌ ‌ ‌ ‌ ‌ ‌ ‌ ‌ ‌ ‌ ‌ ‌ ‌ ‌ ‌ ‌ ‌‌

Procter & Gamble's (P&G) annual general meeting is less than two months away and we've got a giant opportunity to influence the corporation's governance by shaking up its board of directors.
Last week, when I emailed you about the Vote No campaign, I mentioned two key board members – Angela Braly and James McNerney. It was announced on Friday that McNerney will not be seeking re-election! That means we are that much closer to reshaping the direction of P&G and stopping its forest destruction. Hurray!
But we still have to hold Angela Braly accountable for her role in failing to address human rights and environmental violations in the pulp and paper supply chains of the world's largest consumer goods company.
Seven thousand Stand.earth members are on board to get this corporation and its board members who've been putting profit over people and the planet for decades to do the right thing.
Will you join us and push investors to not re-elect Braly?
VOTE NO
Thank you for being a champion for the forests and the planet.
In solidarity,
-Erdene
P.S. Read more about why Procter & Gamble's board of directors must be held accountable for forest destruction.
---
In a corporation as big as Procter & Gamble (P&G), the executive leaders aren't the only ones with the power to change policies and enact better ones. Even the CEO, David Taylor, has to get directives and approvals from the board of directors. After all, the board of directors hold the long-term vision of the company.
So, P&G's inaction on climate and deforestation is a direct result of the board of directors' failure to prioritize this issue. And that's why we're thrilled to join forces with NRDC, Friends of the Earth, Environment America, and Rainforest Action Network to launch the "Vote No" campaign to flush P&G's Directors.
In the months leading up to P&G's annual general meeting (AGM), we will be encouraging investors to vote against two key members of P&G's Board of Directors – Angela Braly and James McNerney – for their role in failing to address human rights and environmental violations in the pulp and paper supply chains of the world's largest consumer goods company.
Shareholders will be eligible to start voting for the board of directors starting tomorrow and up to the AGM in October, so we have less than two months to make our case.
Will you show your support for the "Vote No" campaign by adding your name to a petition urging P&G's investors to vote Angela Braly and James McNerney out of the board?
VOTE NO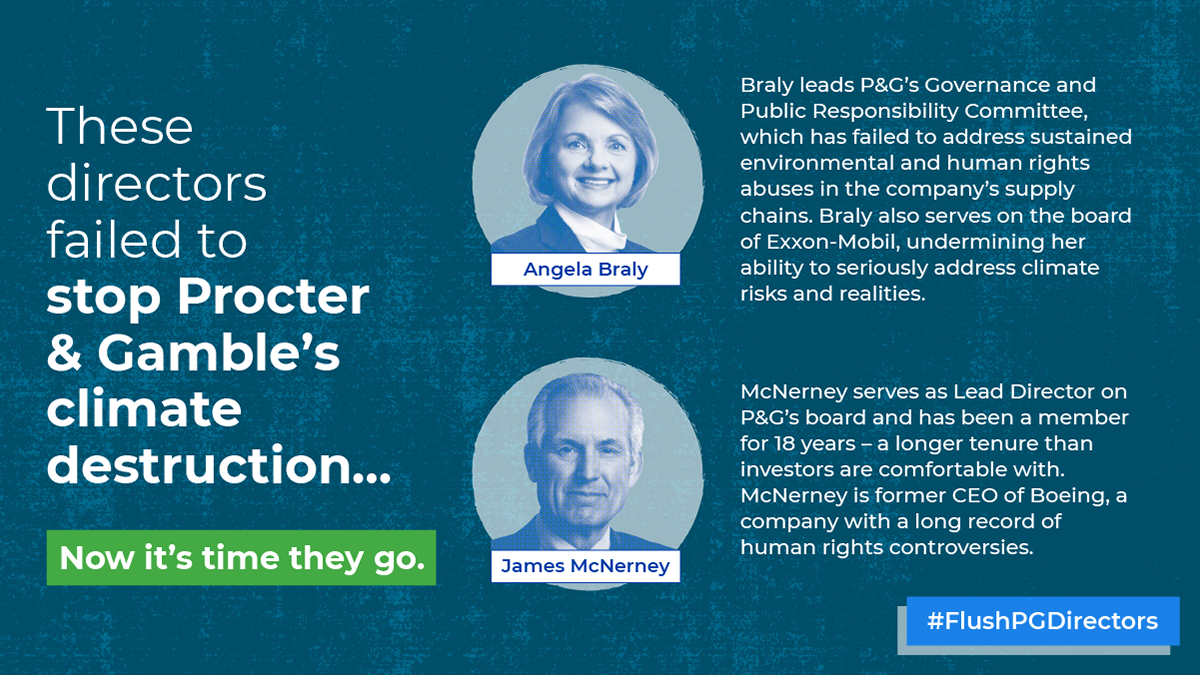 Because it's not every day that we're trying to vote off directors of a $75 billion corporation, let me shed some light on how we can make change happen by pushing Angela and James out.
Angela Braly, who is the chair of P&G's Governance and Public Responsibility Committee – which is responsible for guiding board recommendations on social responsibility issues, including human rights and sustainability – has immense power to enact stronger policies to address the investors' concerns. Not to mention that, until recently, Braly – who also serves on ExxonMobil's board – was the chair of the oil & gas company's Public Issues and Contributions Committee. And we know what a great human rights and environmental champion Exxon is.
It's clear that Braly's focus is solely on profit, regardless of the human and environmental costs, otherwise she would have acted on the directives from investors to change the company's governance practices.
James McNerney, on the other hand, has been P&G's Lead Director since 2003 – a tenure period longer than many investors accept. But it is his involvement in the disastrous Boeing 737 MAX development that raises questions about his ability to adequately respond to risks.
As P&G's customers and shareholders demand that the company be aligned with the global movement to preserve and protect forests, the company needs directors who can keep up with current events. Sticking with the status quo of putting profits over people and the planet is not going to cut it.
Will you help us "flush P&G's directors" by supporting the vote no campaign and urging investors to oppose the re-nomination of Braly and McNerney?
Buttressed by our Stand.earth community (of over half a million and growing), we're expanding the scope of the campaign to work more closely with impacted communities and with P&G's investors. We're going to continue to go head-to-head with this $75 billion corporation to battle its greenwashing narratives and secure permanent protections for critical caribou habitat.
Thank you for being a champion for forests and the environment.
In solidarity,
Erdene Batzorig
Digital Campaigner
Stand.earth
---
Stand.earth challenges corporations, industries, and governments to prioritize the well-being of people, our environment, and our climate by creating long-term, effective solutions. None of this work is possible without your support.
DONATE $5
San Francisco office: 548 Market Street, Suite 74196, San Francisco, CA 94104-5401
On traditional Chochenyo and Karkin Ohlone Lands
---
Bellingham office:
1329 N State St., Suite 302 Bellingham, WA 98225
On traditional Lummi and Nooksack Lands
---
Vancouver office: 5307 Victoria Drive, Suite 347, Vancouver, BC V5P 3V6
On Unceded Territories of the
səl̓ílwətaʔɬ
, xʷməθkwəy̓əm, and Skwxwú7mesh Nations