Details

Published on Sunday, 29 November -0001 16:00
Written by editor
This is a massive victory ‌ ‌ ‌ ‌ ‌ ‌ ‌ ‌ ‌ ‌ ‌ ‌ ‌ ‌ ‌ ‌ ‌ ‌ ‌ ‌ ‌ ‌ ‌ ‌ ‌ ‌ ‌ ‌ ‌ ‌ ‌ ‌ ‌ ‌ ‌ ‌ ‌ ‌ ‌ ‌ ‌ ‌ ‌‌ ‌ ‌ ‌ ‌ ‌ ‌ ‌ ‌ ‌ ‌ ‌ ‌ ‌ ‌ ‌ ‌ ‌ ‌ ‌ ‌ ‌ ‌ ‌ ‌ ‌ ‌ ‌ ‌ ‌ ‌ ‌ ‌ ‌ ‌ ‌ ‌ ‌ ‌ ‌ ‌ ‌ ‌‌

PAOV – we did it!
In the midst of the Canadian federal election, Chubb confirmed earlier this month that it will no longer provide coverage for the Trans Mountain pipeline, becoming the sixteenth insurer to drop this toxic project.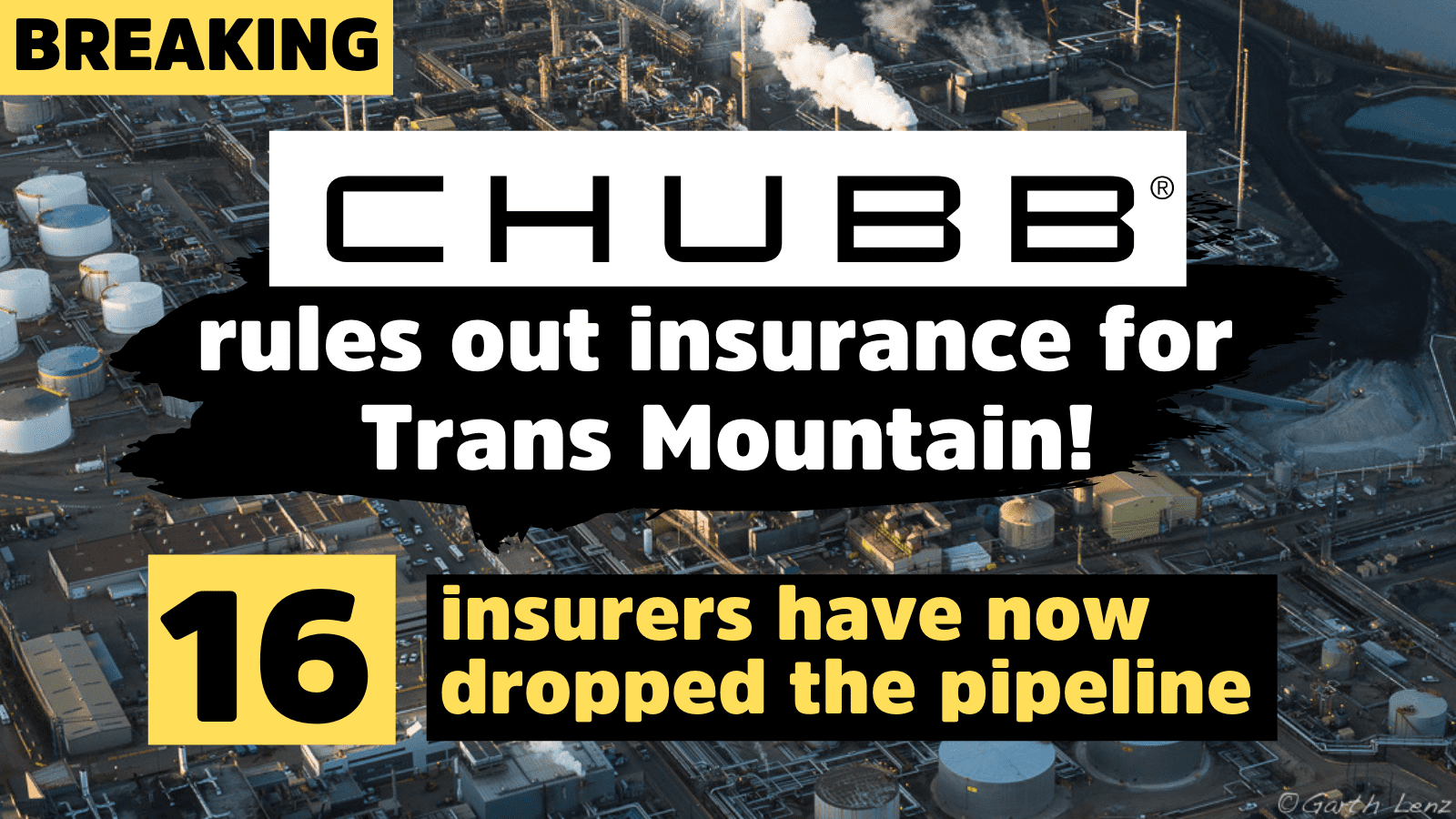 I can't overstate how big this is. Chubb is the world's largest publicly traded property and casualty insurer, and its decision to cut ties with Trans Mountain is not only a major blow for the struggling pipeline – but also sends a strong signal to any future tar sands projects trying to get off the ground.
Thank you, for believing this was possible and for everything you've done to put pressure on Chubb over this past year. This massive win for the climate and for Indigenous rights would not have happened without the persistence and dedication of Stand.earth members like you, working in solidarity with Indigenous land defenders and our global network of allies.
But before I get ahead of myself, let's rewind for a second.
The Stand.earth community has been targeting the insurance industry for three years now – ever since we realized that picking off Trans Mountain's insurers may just be one of our best strategies for stopping this toxic project (and all expansion of the tar sands) once and for all. Remember that without insurance, the pipeline cannot go ahead.
Last year our collective pressure forced Trans Mountain's then-biggest insurer, Zurich, to back out. This left the company scrambling – but this year, Trans Mountain struck back.
Back in February, we found out that the company had filed a request asking the Canada Energy Regulator (CER) to start keeping the identity of its insurers a secret. The filing explicitly name-dropped Stand.earth and credited the pressure from our movement as the reason why the company was struggling to find insurers to back the project.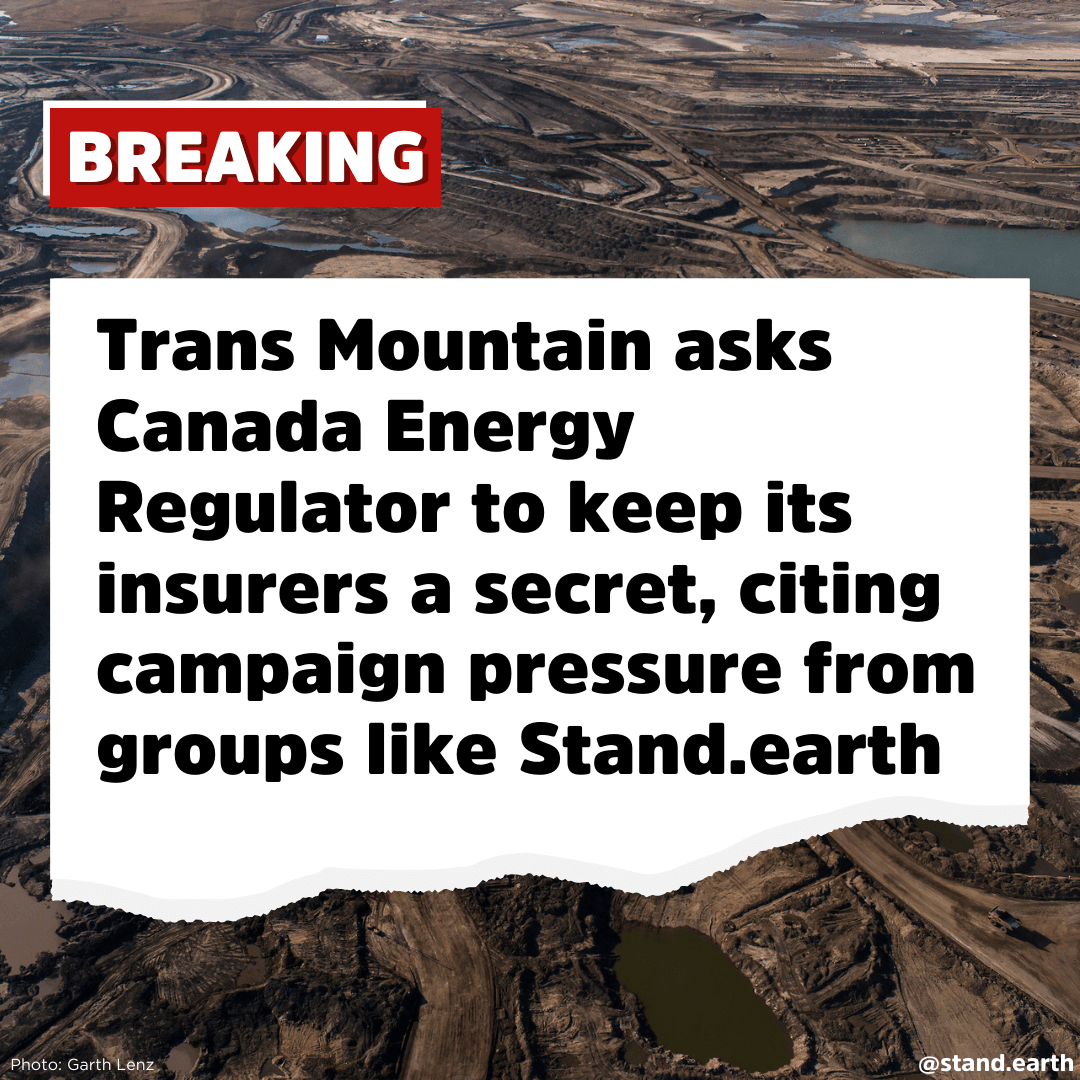 Trans Mountain thought that if its insurers were kept hidden, they would be protected from public pressure. But what they failed to understand about campaigning is that when you get crystal clear evidence your strategy is working, you don't back off – you go even harder.
The CER ended up granting Trans Mountain's request (because, capitalism) – but this did nothing to protect its insurers from public scrutiny. In fact, all it did was immortalize the pipeline's already known insurers, and guarantee that we would continue to target them until they publicly cut ties with the pipeline.
And so we did just that. Over the last few months, four more major insurers have cut ties with the Trans Mountain pipeline – including Chubb and three members of the Lloyd's marketplace. Our sources indicated that alongside Chubb, Lloyd's subsidiaries might be some of Trans Mountain's biggest insurers since Zurich dropped out.
Michael, these are huge wins. A total of sixteen insurers have now pledged to never do business with Trans Mountain, and nine of those companies have policies restricting any future coverage of other polluting tar sands projects.