Details

Published on Sunday, 29 November -0001 16:00
Written by editor
Let's use this momentum to stop old growth logging across B.C. ‌ ‌ ‌ ‌ ‌ ‌ ‌ ‌ ‌ ‌ ‌ ‌ ‌ ‌ ‌ ‌ ‌ ‌ ‌ ‌ ‌ ‌ ‌ ‌ ‌ ‌ ‌ ‌ ‌ ‌ ‌ ‌ ‌ ‌ ‌ ‌ ‌ ‌ ‌ ‌ ‌ ‌ ‌‌ ‌ ‌ ‌ ‌ ‌ ‌ ‌ ‌ ‌ ‌ ‌ ‌ ‌ ‌ ‌ ‌ ‌ ‌ ‌ ‌ ‌ ‌ ‌ ‌ ‌ ‌ ‌ ‌ ‌ ‌ ‌ ‌ ‌ ‌ ‌ ‌ ‌ ‌ ‌ ‌ ‌ ‌‌

On Tuesday, we all celebrated a huge victory: Justice Thompson denied Teal Jones' application to extend the injunction against forest defenders at Ada'itsx (Fairy Creek)! The pressure is on for the B.C. government to finally uphold its promise to protect at-risk old growth across the province.

In June, the B.C. NDP formalized a new technical panel on old growth with leading scientists at the table to map out what areas should be deferred from logging across the entirety of B.C. The government now has all the information they need to implement deferrals, and yet they still didn't meet their self-imposed end-of-summer deadline to do so.
Politicians are back in session at the Legislature next week, and the ball is in our court. We need to build on the momentum from this recent ruling to demand that MLAs across the province continue advocating internally for the government to implement deferrals immediately.
Will you take 5 minutes and send an email to your MLA to demand that the B.C. government delivers on province wide old growth logging deferrals?
EMAIL NOW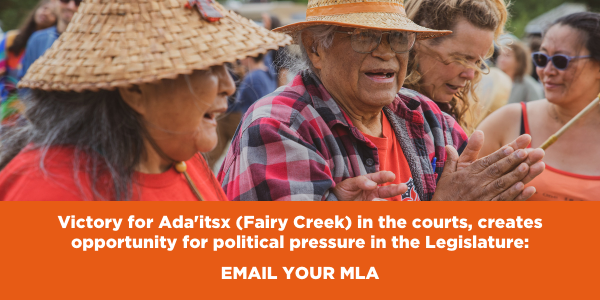 The B.C. NDP committed to implementing old growth logging deferrals almost a year ago, but the majority of at-risk, old growth forests are still on the chopping block. And we're here again as another deadline passes with no more deferral announcements.
Meanwhile, 1,100 forest defenders were arrested at Ada'itsx (Fairy Creek) to stop old growth logging in unceded Pacheedaht territory. These forest defenders put their safety at risk and generated massive international attention on continued old growth logging in B.C. Of these forest defenders, the B.C. Supreme Court judge said: "They are respectful, intelligent, and peaceable by nature. They are good citizens in the important sense that they care intensely about the common good." [1]
The court ruling sent a clear message that the enforcement of the injunction was a serious infringement on civil liberties. While the B.C. government failed to take action, this grassroots movement led by Indigenous land defenders still won.
We know that these efforts have come at a cost to the health and wellbeing of those who have been on the frontlines and hope that the end of the injunction can be an opportunity for them to rest, heal and celebrate. Though the threat of police violence and arrests remains, it is expected to be much more constrained than what was permitted under the injunction. For those who have been supporting forest defenders from afar, we must keep up our efforts to protect old growth and honour Indigenous sovereignty across the province.
Targeting our local MLAs has been an effective strategy so far in putting this issue on the map and making it a key focus for the B.C. NDP – but our work isn't over yet. Let's send a powerful message as the Legislature returns to session next week: we won't stop until old growth logging deferrals are implemented and First Nations have the support, funding and space required to determine long term plans for their lands.
Send an email to your MLA right now to push the B.C. government to implement old growth logging deferrals without any more delay.
This incredible community is growing by the day, and it's been so heartening to witness the frontline resistance building across the province. Non-violent direct action led by Indigenous land defenders at Ada'itsx (Fairy Creek) has changed what's possible in the courts. Thousands of you have stood in solidarity with forest defenders by writing emails, making phone calls, meeting your MLAs and rallying in the streets. If we keep at it, we're confident that we'll see a long awaited transition away from old growth logging.
The Stand.earth community is now over half a million people strong and growing. With this much people power, we know we can keep incredible old growth giants off the chopping block and build a just future for all communities.
Thank you for speaking up for these irreplaceable forests,
Tegan Hansen
Forest Campaigner
Stand.earth
[1] Teal Cedar Products Ltd. v. Rainforest Flying Squad, 2021 BCSC 1903, Supreme Court of British Columbia, September, 28, 2021
---
Stand.earth challenges corporations, industries, and governments to prioritize the well-being of people, our environment, and our climate by creating long-term, effective solutions. None of this work is possible without your support.
DONATE $5
San Francisco office: 548 Market Street, Suite 74196, San Francisco, CA 94104-5401
On traditional Chochenyo and Karkin Ohlone Lands
---
Bellingham office:
1329 N State St., Suite 302 Bellingham, WA 98225
On traditional Lummi and Nooksack Lands
---
Vancouver office: 5307 Victoria Drive, Suite 347, Vancouver, BC V5P 3V6
On Unceded Territories of the
səl̓ílwətaʔɬ
, xʷməθkwəy̓əm, and Skwxwú7mesh Nations