Details

Published on Sunday, 29 November -0001 16:00
Written by editor
Download this newsletter in PDF.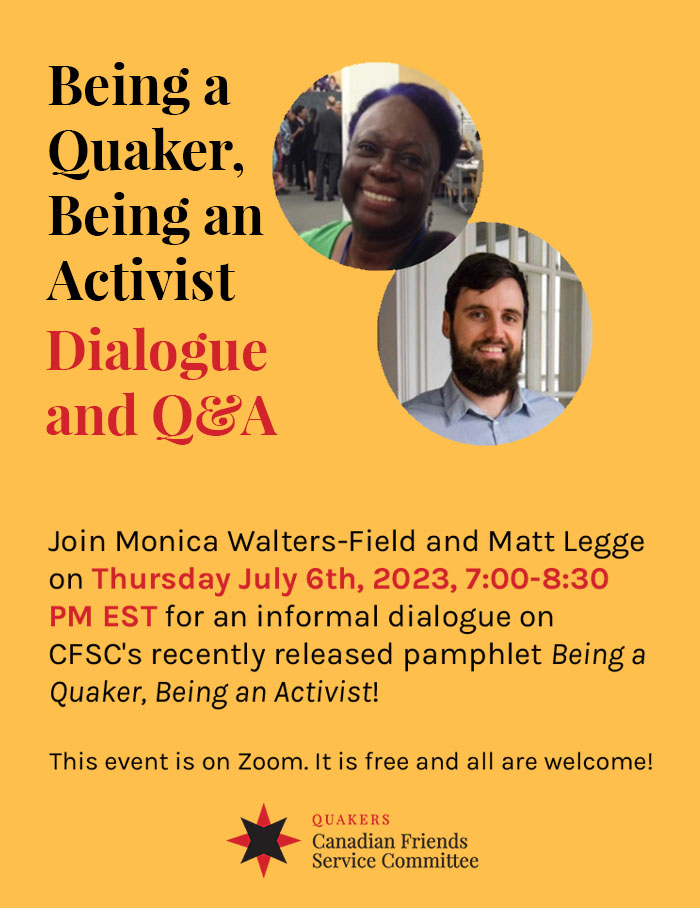 Free event this Thursday open to all (Quakers and non-Quakers alike)
Are you an activist? Are you curious about being one? Do you want to know more about Quaker activism?
Join an informal dialogue with Canadian Friends Service Committee staff Matt Legge and long-time volunteer Monica Walters-Field this Thursday July 6th!
The discussion will be happening at 7:00 PM-8:30 PM Eastern Time. There will be brief remarks about CFSC's recently released pamphlet Being a Quaker, Being an Activist. The event will feature Q&A and discussion amongst participants.
Check out the pamphlet and then join us to hear from Monica, Matt, and other participants how Friends' activism is balanced by, and grounded in, silence, contemplation, and Friendly approaches!
All are welcome! Register for FREE and we'll send you a reminder email with the Zoom link.
March for Reconciliation, Ottawa, 2015.

Faith groups' statement for National Indigenous Peoples Day 2023
On National Indigenous Peoples Day a coalition that CFSC helps to coordinate, of13 churches and faith organizations, came together to release a joint statement:
On this National Indigenous Peoples Day, faith communities and organizations affirm our on-going support for the United Nations Declaration on the Rights of Indigenous Peoples Act. Today, two years after the adoption of this critical and historic legislation, the government is tabling the first National Action Plan. It is well past time to move towards right relationships with Indigenous peoples of this land.
Call to Action #48 of the Truth and Reconciliation Commission (TRC) counsels all faith groups in Canada to formally adopt and comply with the principles, norms, and standards of the Declaration as a framework for reconciliation. In this spirit, our support for Declaration legislation is an expression of our commitment to reconciliation with humility.
This commitment is part of wider efforts by faith communities to decolonize our minds and hearts, to work against racism, and to develop just relationships. As faith communities, we recognize that we must address our past institutional histories and involvements, and also act for constructive change to the laws and regulations of the state.
We recognize the National Action Plan as another important step on the journey towards the full implementation of the Declaration. We recognize the work ahead to ensure that all levels of government in Canada respect Indigenous peoples' right of self-determination, including the right to free, prior, and informed consent. We acknowledge that critical issues of land, sovereignty, governance, and restitution still require urgent attention...
Keep reading this joint statement. Visit the Faith in the Declaration Coalition's website.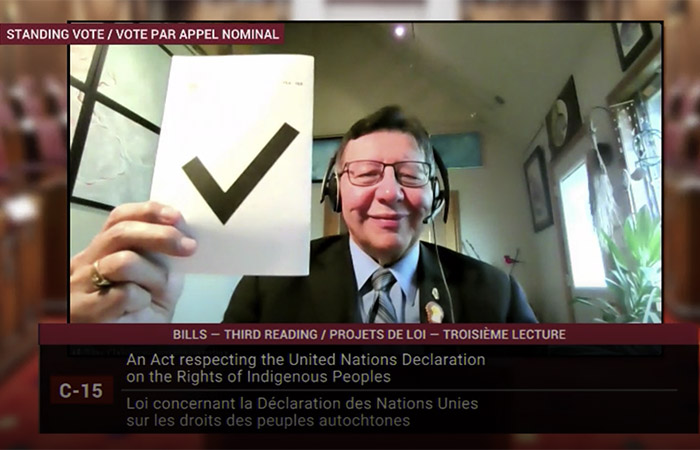 Senator Christmas votes to pass Bill C-15, June 16, 2021.

Joint Statement on the Release of Canada's UN Declaration on the Rights of Indigenous Peoples Act National Action Plan
A federal action plan tabled in Parliament on June 21 marks a promising—but flawed—beginning to Canada's implementation of the United Nations Declaration on the Rights of Indigenous Peoples.
The UN Declaration is the most comprehensive international human rights instrument affirming the collective rights of Indigenous peoples and the individual rights of members of Indigenous Nations. Indigenous peoples worked for more than two decades to have this instrument adopted by the United Nations.
After years of opposition to the Declaration, in 2021 Canada became one of the first countries in the world to pass national legislation to fully implement the UN Declaration, including adoption of a comprehensive national action plan. The significance of this cannot be understated.
The first action plan to be created under the implementation act commits to numerous, important reforms and initiatives brought forward by Indigenous peoples, such as:
A commitment to formally withdraw the federal government's longstanding, much criticized Comprehensive Land Claims and Inherent Right Policies and issue a public statement affirming that "the extinguishment of rights is not a policy objective";
Exploring options to provide training on the UN Declaration to judges; and
Establishing an independent Indigenous rights monitoring, oversight, and recourse mechanism or mechanisms.
However, the plan also includes significant inconsistencies, from section to section and in respect to the actual requirements of the UN Declaration itself. Keep reading this joint statement from the Coalition for the Human Rights of Indigenous Peoples.

 

r0 | Manage email preferences