Details

Published on Tuesday, 05 September 2017 15:15
Written by editor
Democracy Week: September 15-21, 2017

Host a Democracy Discussion in September!
Working Together to Elect Politicians Who Will Keep Their Promises on Electoral Reform
The fight for proportional representation is far from over. We need your help to take the next steps!

As a movement, we are stronger, more informed, and more determined than ever.  And we are looking ahead to 2019.
We need to make proportional representation an election issue again - bigger than 2015.
We need to work together to build support for proportional representation in communities - laying the groundwork to elect MPs we can trust who will finish the job. This means connecting PR supporters in every riding.
Can you sign up to host a Democracy Week Discussion in September?
Our 2019 strategic plan was overwhelmingly backed by this community. Now we want your ideas and insights about how we will accomplish it together, both nationally, and in your riding! The feedback from your discussion will help us all succeed.
You can have your gathering at a pub, a library, coffee shop, or your home. You can have it before, during or after the actual Democracy Week. You can invite your friends and acquaintances - and we would encourage you to open it up to other Fair Vote Canada supporters in your riding.
When you sign up to host, we will send you a host guide with a suggested discussion questions and resources.
In 2015, three parties ran on clear campaign platform promises to end first-past-the-post and make every vote count in 2019.
An intensive consultation process showed experts and citizens strongly behind proportional representation, with solid made-for-Canada models, any of which could have been implemented for 2019.
Instead, the party with 39% of the vote, and 100% of the power, slammed the door.
A false majority allowed one man's preference for another winner-take-all system to become all powerful - making a mockery of the solemn promise of "evidence-based policy".
Let's connect with each other now about finishing what we started - winning a fair, cooperative, and proportional system for Canada that puts voters first.
 
Sincerely,

Anita Nickerson
Fair Vote Canada Action Coordinator

Semaine de la démocratie: du 15 au 21 septembre 2017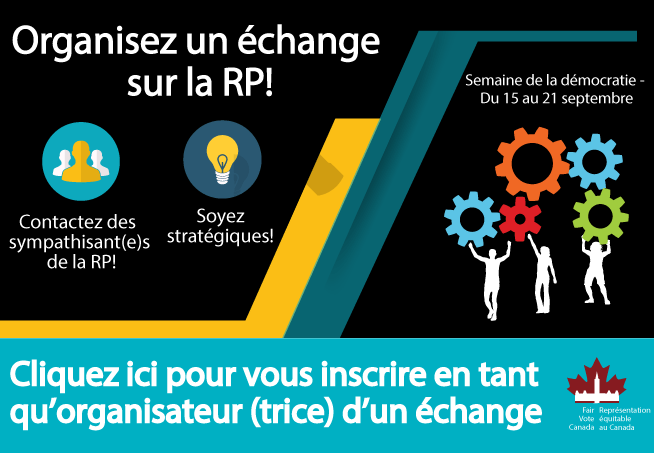 En septembre, organisez un échange sur la démocratie!
Bonjour ,
La lutte pour la représentation proportionnelle est loin d'être terminée. Nous avons besoin de votre aide pour franchir quelques étapes de plus!
En tant que mouvement, nous sommes plus forts, mieux informés et plus déterminés que jamais. Et nous nous tournons maintenant vers 2019.
Nous devons, à nouveau, faire de la représentation proportionnelle un enjeu électoral - plus important qu'en 2015.
Nous devons travailler ensemble pour nous assurer du soutien de la population envers la représentation proportionnelle. Voilà la façon de préparer le terrain pour élire des députés sur qui nous pouvons compter pour finir le travail entamé. Pour améliorer nos chances d'atteindre ces objectifs, nous devons mettre en contact les sympathisant(e)s de la RP dans chaque circonscription.
Acceptez-vous de vous inscrire pour organiser un échange sur la démocratie en septembre?
En tant que sympathisant(e)s vous avez collaboré en grand nombre à l'élaboration de notre plan stratégique pour 2019. Maintenant nous voulons connaître vos idées et vos réflexions sur la mise en oeuvre de ce plan, tant à l'échelle nationale que dans chacune de vos circonscriptions! Le feedback de votre échange sur la démocratie nous aidera tous à bien réussir cette démarche.
Vous pouvez faire votre rencontre dans un bar, dans une bibliothèque, dans un café ou à la maison. Vous pouvez faire cette rencontre avant, pendant ou après la Semaine de la démocratie.
Vous pouvez y inviter vos ami(e)s et vos connaissances - nous vous encourageons à y inviter des sympathisant(e)s de Représentation équitable au Canada de votre circonscription.
Lorsque vous inscrirez pour organiser un tel échange, nous vous enverrons un guide qui comprendra une suggestion de mode de discussion et des ressources.
En 2015, trois partis avaient chacun dans leur plateforme électorale respective une promesse claire d'en finir avec le système majoritaire uninominal à un tour et de faire compter chaque vote en 2019.
Un processus intensif de consultation a démontré qu'experts et citoyens ont appuyé les modèles faits sur mesure pour le Canada, et peu importe lequel aurait été choisi, il aurait pu être mis en place pour 2019.
Au lieu de cela, le parti élu avec 39% du vote populaire mais exerçant 100% du pouvoir, a fermé la porte à ce projet, brisant ainsi sa promesse.
Une fausse majorité a permis que la préférence d'un homme pour un autre système où "le gagnant rafle tout" l'emporte. Notre premier ministre a donc fait fi de l'engagement solennel qu'il avait pris de baser sa décision sur des preuves.
Il est temps que nous nous connections les uns aux autres pour finir ce que nous avons commencé - obtenir, pour le Canada, un système électoral équitable, coopératif et proportionnel qui donnera priorité aux électeurs et aux électrices.
Sincèrement,
Anita Nickerson
Coordonnatrice des activités pour Représentation équitable au Canada
Fair Vote Canada / Représentation équitable au Canada
283 Danforth Avenue #408




Toronto

,

ON

M4K 1N2




Canada