Details

Published on Sunday, 29 November -0001 18:00
Written by editor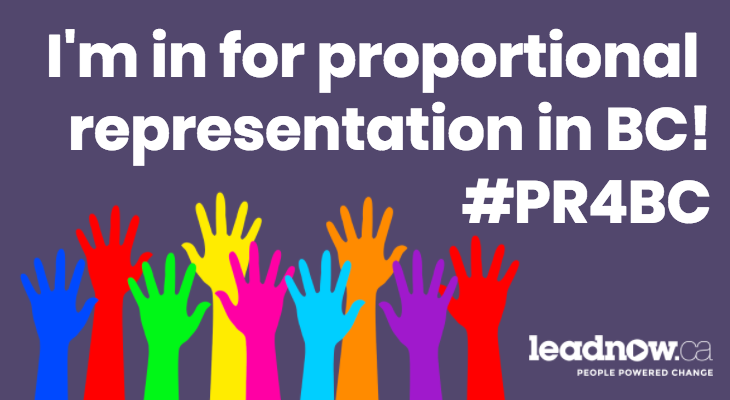 A referendum on proportional representation in BC is officially coming in 2018. The Leadnow team is about to sit down and decide what to do next, but first, we need to know if you're with us, Supa. Are you ready to join the movement to win PR for BC in 2018?
It's on. The BC NDP government officially kicked off the process for an electoral reform referendum in BC in 2018.[1]

We don't have firm dates yet, but it's going to happen by mail-in ballot in the fall of 2018. The threshold for the referendum to pass will be 50%+1 provincewide, and consultations on the format of the question will take place over the next few months.[2]
Winning a referendum on electoral reform isn't going to be easy. Even though the BC NDP and BC Greens have committed to campaigning for change, our opponents are already ramping up their fear mongering in the media.[3]
So this week and next we're sitting down to start strategizing, but first, we need to know what you think.
So, what do you say, PAOV? Are you ready to join the movement to win proportional representation for BC in 2018?


If we win this referendum, BC will be the first province to change how we vote, and that could create a domino effect for the rest of the country to follow suit. Proportional representation in BC would mean a more fair voting system, a more collaborative government, and stronger democracy where more voices are represented.
Thanks to years of hard work by the Leadnow community and our allies, our electoral reform movement is stronger than ever. We can win this one, but it will take thousands of us coming together to pledge our votes, knock on our neighbours' doors, and chip in to start paying for organizing and education materials.
Leadnow was designed for moments like this. Our people powered campaigns, cutting edge technology and experienced ground game know-how position us to have real impact, but first we need to know what you're thinking.
So - what do you say, PAOV? Are you in?
YES - Let's go all in to win PR for BC!
NO - Let's work on something else
There will be a band of usual suspects who try to scare us into rejecting change. Elites are used to our current system, first-past-the-post, and it's served many of them well. If we want to win we're going to have to get to work now.
Over the next few weeks we'll have more exciting news on how you can help. We'll need people to support the campaign every step of the way. But before all of that - we need to know the answer to one simple question. Are you in?
YES - I'm ready to get to work!
NO - Let's work on something else
With excitement and gratitude,
Rachel and Katelynn on behalf of the Leadnow team
Sources:
[1] NDP announces referendum on proportional representation for B.C.(CBC): http://www.cbc.ca/news/canada/british-columbia/bc-referendum-proportional-representation-referendum-1.4329417
[2] Government takes action to modernize democracy (BC Government News Release): https://news.gov.bc.ca/releases/2017AG0028-001683
[3] Greens Political 'Hostage-Taking' Preview of Grim Future Under Proportional Representation
(The Tyee): https://thetyee.ca/Opinion/2017/09/19/Greens-Political-Hostage-Taking/