Details

Published on Sunday, 29 November -0001 18:00
Written by editor
Busting the Myths about Proportional Representation!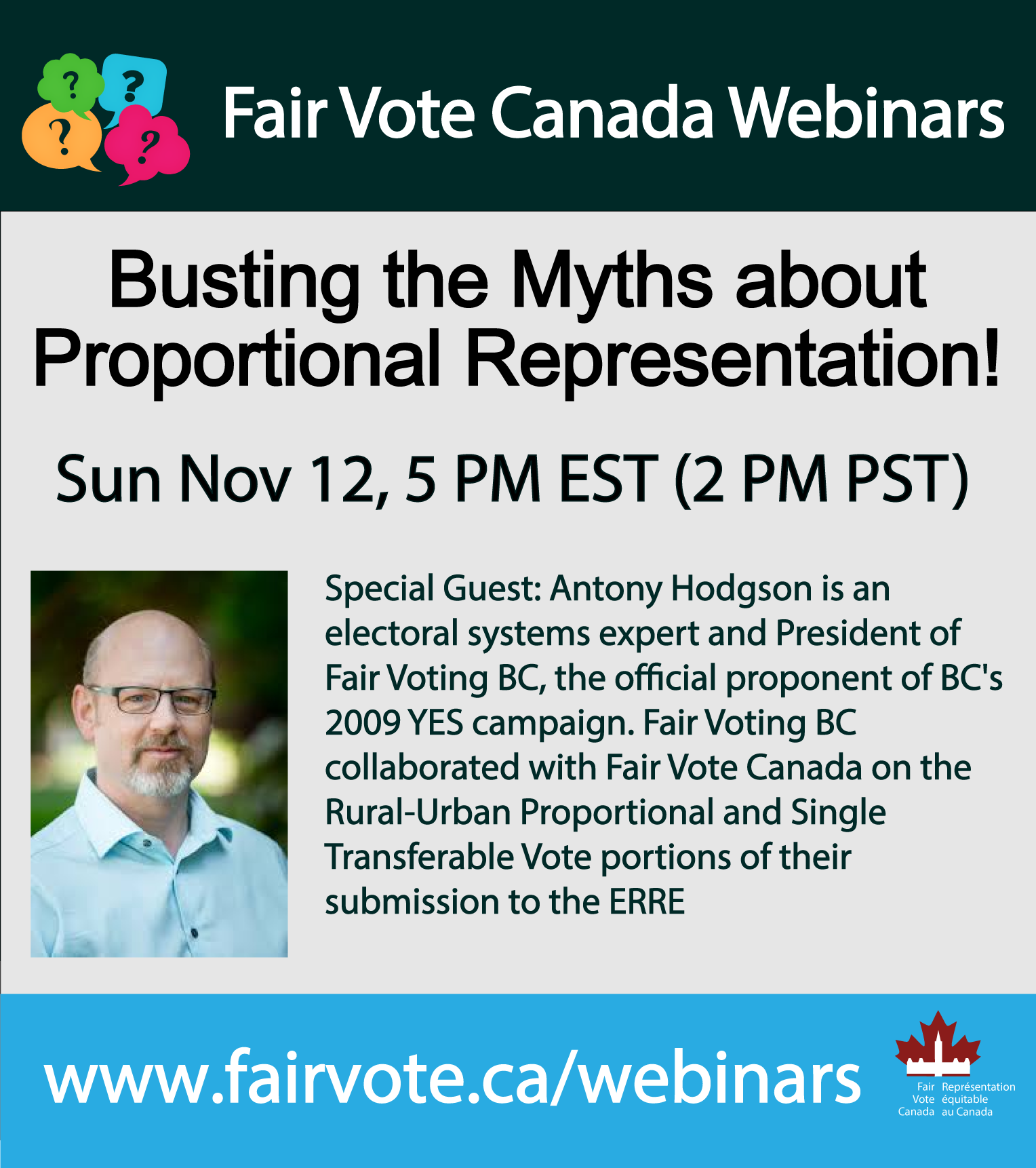 Sunday November 12, 5 PM EST (2 PM PST)
Every wondered about some of the myths you hear about proportional representation? Does PR affect "stability"? What role do small parties play? Will PR affect representation for rural areas? How do parties work together and get things done?


Join us for a webinar with special guest Antony Hodgson, electoral reform expert and President of Fair Voting BC as we address the most common myths! With BC's third referendum on electoral reform just a year away, this discussion has never been more important.

Sunday November 12, 5-6:30 PM EST (2-3:30 PM PST)
Busting the Myths about PR
Register here:
https://attendee.gotowebinar.com/register/4598079947118491651
Special guest: Antony Hodgson is an electoral reform systems expert and President of Fair Voting BC, the official proponent of BC's 2009 YES campaign. Antony collaborated with Fair Vote Canada on their Rural-Urban Proportional model for their submission to the federal ERRE. He also collaborated with electoral reform expert Byron Weber Becker on the additional systems work Byron did at the special request of the ERRE. Antony is a professor of mechanical engineering, and director of the graduate program in biomedical engineering at the University of British Columbia.

Following the presentation, you'll be able to ask questions of Antony and Anita via a chat box. 
Only proportional systems can deliver on our most important values: effective votes, fair representation, collaborative politics, voter choice, diversity, regional balance, and more accountable government. 
Please share this webinar widely with friends who may be interested!

We hope you can join us on Sunday November 12 at 5 PM EST - register here!

Thanks for being part of the campaign to Make Every Vote Count!
Sincerely,
Anita Nickerson
FVC Action Coordinator
P.S. Can you host a local campaign discussion about PR? Sign up here!  Check out our upcoming webinars here or watch some of our past webinars and other videos on our youtube channel: http://www.youtube.com/FairVoteCanada
Fair Vote Canada / Représentation équitable au Canada
283 Danforth Avenue #408
Toronto, ON M4K 1N2


Canada