Details

Published on Sunday, 29 November -0001 18:00
Written by editor
Update from the global movement for tribal peoples' rights
Survival launches global boycott of India's tiger reserves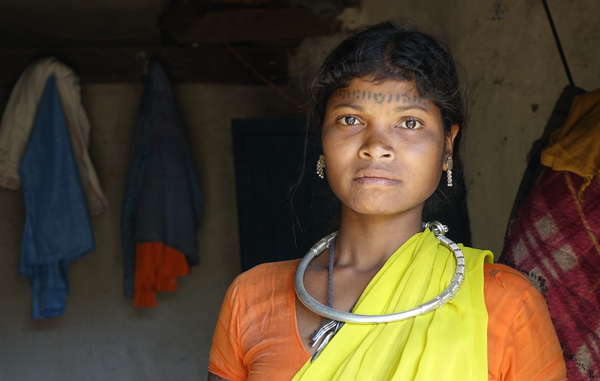 Baiga woman evicted from Kanha. The Baiga have struggled to find land since their eviction and now face poverty and misery.© Survival
Survival International has launched a worldwide tourist boycott of India's tiger reserves until the rights of tribal peoples living within them are fully restored and respected.
Indian conservation authorities have banned the recognition of tribal rights in tiger reserves, a move that has provoked widespread condemnation.
Tens of thousands of Indian tribal people have been illegally evicted from villages inside tiger reserves, and forced into lives of poverty and misery on the fringes of mainstream society.
India's Forest Rights Act guarantees tribal people the right to live on and protect their ancestral land.
Big conservation organizations such as the Wildlife Conservation Society (WCS) support the evictions. For decades WCS has led the call for the "relocation" of tribal people from tiger reserves.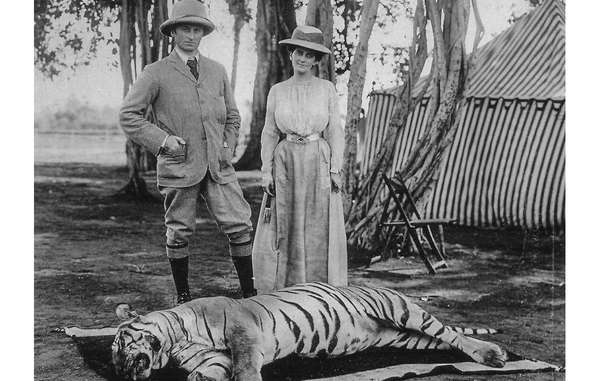 Hunting by the Raj elite endangered India's tigers – but tribal people are paying the price of conservation efforts.© Wikimedia
Many tribal peoples are not aware that they have the right to stay on their land, because forest authorities do not tell them.
Background briefing
- The National Tiger Conservation Authority (NTCA) has issued an order stating that tribal peoples' rights should not be recognized in critical tiger habitats. The NTCA has no legal authority to issue this order, which is a gross violation of the Forest Rights Act.
- In the first tiger reserve where tribal people had their right to stay recognized, tiger numbers have increased at well above the national average.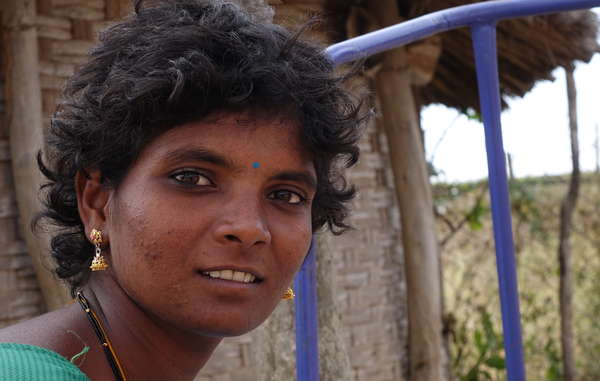 A Chenchu woman from Pecheru village, which was evicted from Nagarjunsagar Srisailam Tiger Reserve. The Chenchu report that of the 750 families that used to live in the village, only 160 families survived after the eviction.© Survival
Madegowda, a tribal rights activist from the Soliga tribe in southern India, condemned the ban, calling it a violation of "human rights and tribal rights in the name of tiger conservation. Tribal people, tigers and wildlife can live together, co-existence is possible because tribal peoples have a depth of knowledge on biodiversity and they know how to protect the forest and wildlife."
Members of the Jenu Kuruba tribe, many of whom have been evicted from Nagarhole National Park, protested against the ban, threatening to block the road to the park if it wasn't withdrawn. A Jenu Kuruba man said: "They evicted us on the pretext that we made noise, that we disturbed the forest, but now there are a lot of jeeps and tourism vehicles – isn't that a disturbance for the animals?"
Conservationist Brajesh Dubey said: "We are going to see more people displaced because the government wants to show they care about tigers… But it has been proven that tribal communities help prevent poaching and also help in conservation efforts."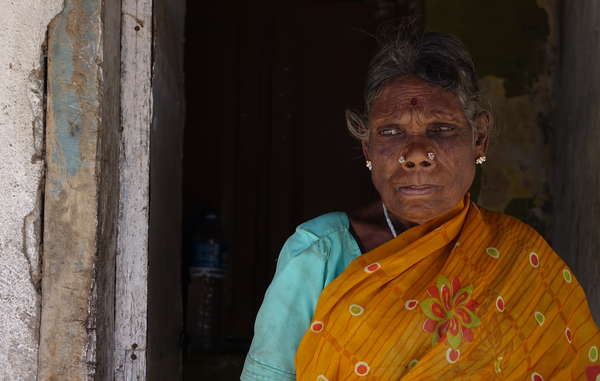 The Soliga have an extraordinary knowledge of their environment, and a deep reverence for the tiger.© Survival
Meanwhile, thousands of tourists enter tiger reserves each year, and industrial projects such as dam-building and uranium exploration have been approved inside them.
The boycott can be joined here
Survival's Director Stephen Corry said: "More and more tourists are aware that India's tiger reserves hide a deep injustice – the illegal eviction of tribes in the name of conservation. Now the government has compounded this injustice by banning the recognition of tribal rights in the reserves for those who still remain. That's why we're calling for a boycott of all tiger reserves. The authorities need to realize that only by complying with the law and recognizing tribes' rights can the tiger be saved – and that tourists won't want to visit tiger reserves that have been emptied of their rightful owners."
Read this online: http://www.survivalinternational.org/news/11751


Uganda: Batwa "Pygmy" imprisoned for hunting now released
Kafukuzi Valence in his cell in Kisoro, Uganda, in February 2017© Alex Ahimbisibwe/Batwa Development Organisation
A Batwa "Pygmy" man has been released from prison, after spending over seven months behind bars for killing a small antelope inside a protected area from which his people were illegally evicted.
Kafukuzi Valence, who has no birth certificate but reports his age as 72, claims the animal strayed from Uganda's Bwindi Impenetrable National Park into a neighboring field.
"They imprisoned me because I caught an animal from the forest and ate it," Mr Kafukuzi told Survival.
"I was so ill and helpless, and I had no medical care," said Mr Kafukuzi, describing his time in prison. "I had such bad pain in my chest and my legs, and there were so many bedbugs biting me."
"Even now I am very weak. I have nothing to eat, I just sit here. That is my life now."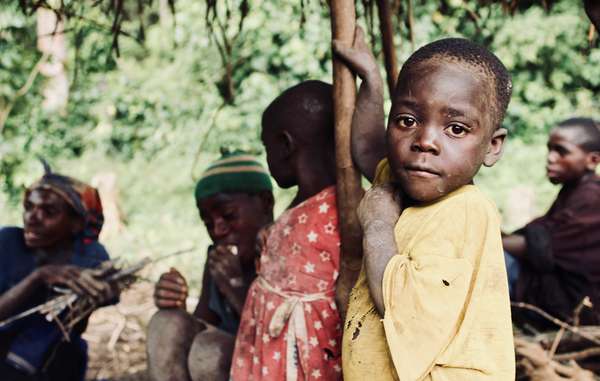 Bwindi Impenetrable National Park was established on the ancestral homelands of the Batwa hunter-gatherers in 1991, with the support of the World Wildlife Fund (WWF) and without the Batwa's consent.© Emilie Giles/Survival International
Mr Kafukuzi alleges that rangers from the Uganda Wildife Authority also stole possessions from his house at the time of his arrest.
Bwindi Impenetrable National Park was established on the ancestral homelands of the Batwa hunter-gatherers in 1991, with the support of the World Wildlife Fund (WWF) and without the Batwa's consent. Now the Batwa are accused of "poaching" when they hunt to feed their families.
"The wildlife rangers announced in the region that everyone should leave the forest, but we stayed," recounted Mr Kafukuzi. "They came to hunt us down and shoot at us."
But targeting tribal hunters diverts action away from tackling the true poachers – criminals conspiring with corrupt officials. Last week it was reported that a Uganda Wildlife Authority ranger was caught trafficking hippo teeth.
Survival is campaigning to stop the violation of tribal peoples' rights in the name of conservation.
Read this online: http://www.survivalinternational.org/news/11863


COP 23: Survival calls for stronger tribal voice at global climate conference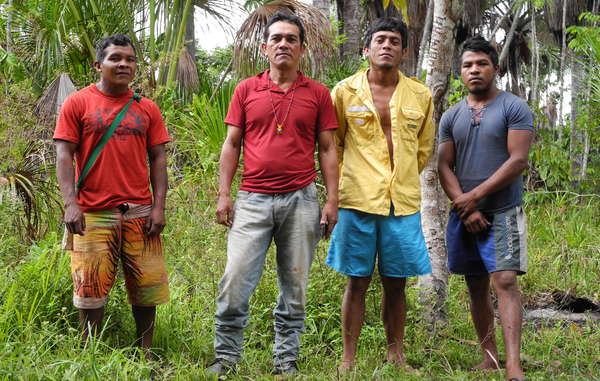 The Guajajara Guardians are a group of Brazilian Indians who protect their forest in the Amazon, and the uncontacted people who live in it.© Survival
Survival International is calling for greater recognition from world leaders for tribal peoples' crucial role in protecting the environment, ahead of the COP 23 conference in Bonn, Germany.
The conference, which takes place between November 6 and November 17, is a follow up to the groundbreaking Paris climate talks in 2015, and brings together government representatives and activists from around the world, including some indigenous people, to discuss environmental issues.
Survival has been leading the global call for a conservation model that respects tribal peoples' rights. This has been increasingly acknowledged by key international figures, including the United Nations Special Rapporteur for Indigenous Peoples, Victoria Tauli-Corpuz.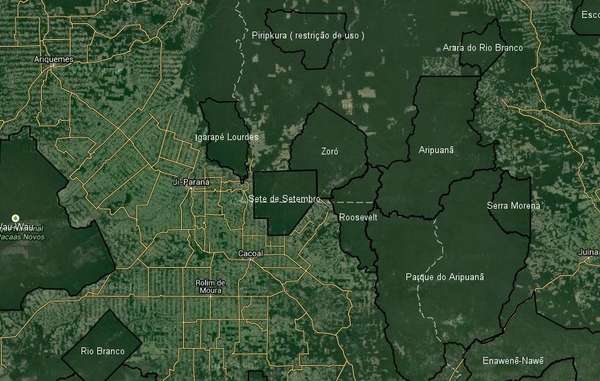 Satellite images show that large areas of the Amazon are protected by indigenous territories.© Google Earth
Davi Kopenawa, a Yanomami shaman known as the Dalai Lama of the rainforest, said: "The rains come late. The sun behaves in a strange way. The world is ill. The lungs of the sky are polluted. We know it is happening. You cannot go on destroying nature."
Evidence proves that tribal territories are the best barrier to deforestation. Robust land protection measures and recognition of tribal land rights protect vast areas of forest, aiding biodiversity and reducing global CO2 levels.
But despite this, some of the big conservation organizations are partnering with industry and tourism and destroying the environment's best allies. The World Wildlife Fund (WWF) and The Wildlife Conservation Society (WCS) have both partnered with logging companies in the Congo Basin, none of which is logging at sustainable rates, and both have contributed to gross violations of the rights of tribal peoples like the Baka and Bayaka.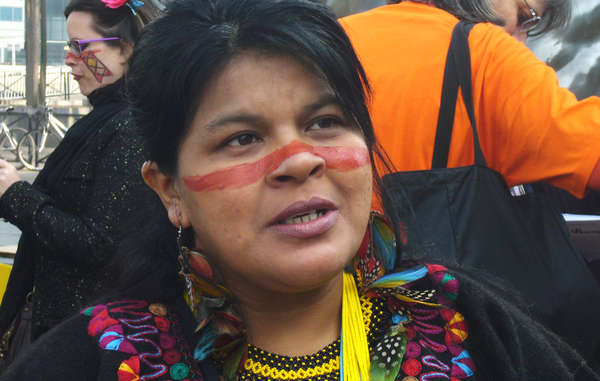 Brazilian Indian leader Sonia Guajajara, who will be attending the Bonn climate conference.© Survival International
Although some indigenous activists like Sonia Guajajara from Brazil will be present at the talks, tribal peoples' voices will not be at the center of the conference. This is despite the fact that tribal peoples are the best conservationists and guardians of the natural world, and should be at the forefront of the environmental movement.
Survival's Director Stephen Corry said: "It's dangerous to sideline tribal people in discussions on how best to protect our planet. They have far greater insight into how to look after the environment than anyone and we ignore their knowledge at our peril. For decades, industrialized society has ravaged the planet and destroyed indigenous peoples along the way. It's time we started listening to them before it's too late."
Read this online: http://www.survivalinternational.org/news/11858


Brazil: Tribe defy miners – "Our life depends on the life of the earth and the forest"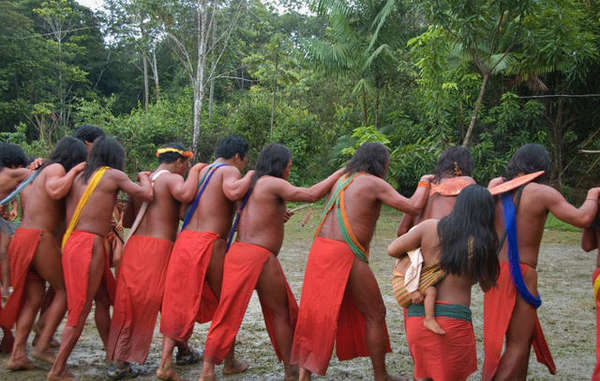 The Waiãpi have organized protests against projects on their land© Survival
The Waiãpi tribe in Brazil have defied a hostile government to defend their land rights.
The tribe has circulated a powerful open letter in which they state: "We're against mining because we want to defend our land and forest. We believe the land is a person".
The letter was written in response to the Brazilian government's attempt to open up the Amazon forest around the tribe's land to large-scale mining. Following a global outcry by indigenous peoples and campaigners, the government backed down.
However, given the power of Brazil's notorious agribusiness lobby, the Waiãpi are on the alert. In the letter they vow to defend their territory at all costs against mining interests.
The tribe say mining will not bring benefits to them. They are concerned about conflict and disease brought by an influx of outsiders, and the opening up of their land to destructive economic interests such as hydro-electric dams, ranching and gold mining.
This small Amazon tribe knows the devastating impacts of highways and mining. Sporadic contacts with outsiders hunting wild cats for their pelts and groups of gold prospectors in the latter part of last century introduced fatal diseases like measles to which the isolated Waiãpi had no resistance. Many died as a result.
In 1973 FUNAI, the government's indigenous affairs department decided to contact the Waiãpi because the country's military dictatorship wanted to build a highway through their land.
At the time of contact, the Waiãpi numbered a mere 150 individuals and seemed on the brink of extinction. However, they have proved extraordinarily resilient and today number over 1,200 people.
They have set up their own organizations, expelled the gold miners working illegally on their land, and trained their own health agents and teachers who work in the communities.
Some members of the tribe have made innovative films documenting their campaign for land rights. Some toured abroad for international support, and their communities physically mapped out their land, which was finally recognized by the government in 1996. Since then, they have occupied all the regions within the territory to protect it from invasion.
The letter underlines their strong sense of cohesion: "We Wajãpi have a very strong culture, which we continue to value and transmit to our future generations".
Important events in the natural calendar such as fish spawning and honey gathering are celebrated with ceremonies where all generations join in the dancing, accompanied by flute music and the consumption of caxiri, a drink made from fermented manioc. Like most tribal peoples, their botanical knowledge is immense – they cultivate over 15 types of wild manioc and 5 types of corn.
In 2008 UNESCO recognized the Waiãpi's graphic art, which they call kusiwa, as the "Intangible Cultural Heritage of Humanity". It is based on the use of natural paints from plants, like the red anatto paste, which is used to paint intricate designs on the body and to decorate objects like baskets
However national and international pressure is fundamental to support the Waiãpi in their continuing struggle to assert their rights as they face increasing threats to their land, a hostile congress and a government intent on weakening indigenous rights in Brazil.
Their letter ends with a call to all who are concerned about the destruction of the Amazon to support them. Readers can take action by participating in Survival's campaign here
Read this online: http://www.survivalinternational.org/news/11856


Brazil: Uncontacted people threatened by forest fire in Amazon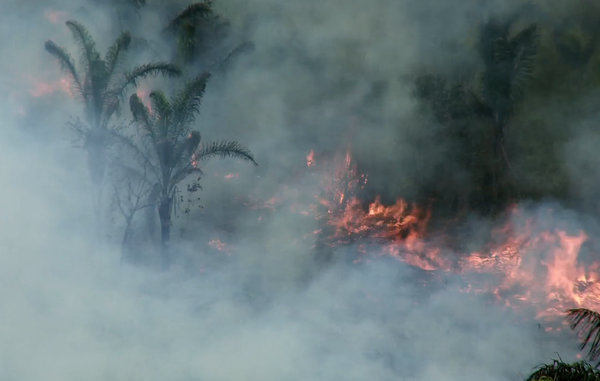 Fires are threatening the lives and lands of tribal people in the Amazon.© Survival International
Forest fires are raging in an indigenous territory on the edge of the Brazilian Amazon, threatening to wipe out uncontacted members of the Awá tribe.
Neighboring Guajajara Indians are attempting to contain the blaze and demanding greater support from government.
Campaigners are concerned that the current wave of fires could wipe out the uncontacted Awá and are calling for urgent action.
The Awá are already under great pressure as illegal loggers are devastating their territory, which is an island of green amid a sea of deforestation.
Uncontacted tribes are the most vulnerable peoples the planet. Tribes like the Awá are being wiped out by violence from outsiders, and by diseases like flu and measles to which they have no resistance. Unless their land is protected, they face catastrophe.
Among those fighting the fires are indigenous fire-fighters of the Environment Ministry's fire prevention scheme "Prevfogo," and members of the "Guajajara Guardians," who live in and frequently patrol the area in an attempt to crack down on illegal logging, and protect their uncontacted neighbors who are living on the run.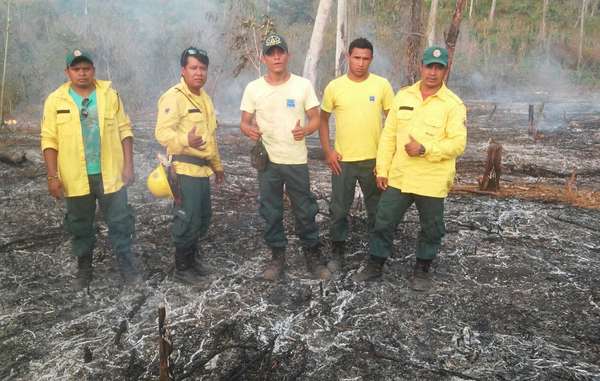 Indigenous firefighters in Arariboia Indigenous territory, Brazil.© Guajajara
Kaw Guajajara, one of their leaders, said: "Our uncontacted relatives can't survive without their forest… As long as we live we will fight for our forest and the uncontacted Indians."
The Guardians' role in protecting their forest highlights the vital role tribal peoples play in conservation, ahead of the COP23 conference in Bonn, Germany next month.
Tribal peoples like the Guajajara and Awá have been dependent on and managed their environments for millennia. Evidence proves that tribal peoples are better at looking after their environment than anyone else. They are the best conservationists and guardians of the natural world.
Survival International, the global movement for tribal peoples' rights, is lobbying the Brazilian government to ensure the Arariboia fires are extinguished as a matter of urgency, and that all invaders are evicted from the territory.
Read this online: http://www.survivalinternational.org/news/11850


Since 1969 | Offices in London, Berlin, Madrid, Milan, Paris & San Francisco
Supporters in over 100 countries A 501(c)(3) organization | Registered charity no. 267444
Our mailing addresses:
Survival International USA, PO Box 26345, San Francisco, CA 94126
Survival International, 6 Charterhouse Buildings, London EC1M 7ET, UK