Details

Published on Sunday, 29 November -0001 18:00
Written by editor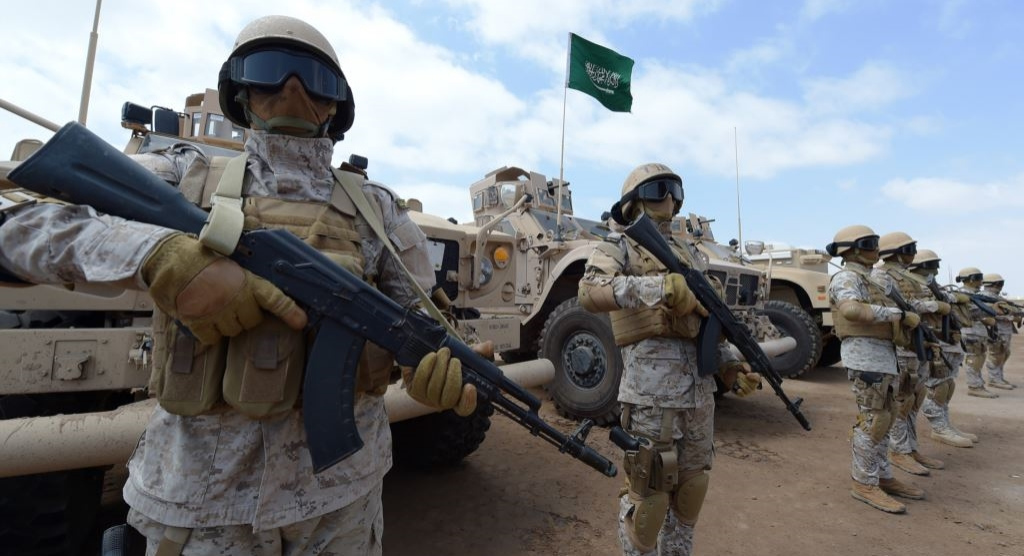 Canadian-made weapons are being used by Saudi Arabia against civilians. A new bill could put a stop to it, but it has serious loopholes that could let weapons slip through to human rights abusing countries. Will you demand the government acts now and closes the loopholes?
It's being called the worst humanitarian crisis since WW2 -- and Canadian weapons could be fueling it.[1]

Yemen is in the midst of a horrific humanitarian crisis after being bombed to bits by Saudi Arabia for the last two years. The impacts are staggering: over 2.5 million people have been displaced, thousands have died, almost a million people have contracted cholera from lack of access to clean water, and over 150,000 children could starve to death in the coming months.[2-3]
And in the midst of it all, a shocking new report has found that Canadian weapons sales to Saudi Arabia skyrocketed in 2016.[4-5] We're literally profiting off of this crisis, and we have to put a stop to it.
A new bill is going through the House of Commons that could strengthen Canada's arms export laws and prevent us from selling weapons to countries like Saudi Arabia in the future - but the Liberals have left loopholes in the bill that would mean weapons could still slip through.[6-9]
Right now, there's a committee looking at the bill and deciding what amendments it should make. If we flood committee members with emails, it will show that the public is watching this issue closely, which could convince them to fix these loopholes. With only days to go before the amendments have to be finalized, we have to act fast.
Human rights advocates have been raising the alarm about the Saudi Arabia-led crisis in Yemen for years, but the international community isn't moving fast enough - or in the case of Canada, at all.
Canada's continuing to sell arms to Saudi Arabia even though our export control rules say we shouldn't. In 2016 the Liberals approved a $15 billion contract to sell armoured vehicles to the Saudi regime, and have also sold this notorious human rights abuser $13.5 million in rifles over the last year.[10]
The Liberals were able to get away with approving the sale of arms to Saudi Arabia in 2016 because they said it was a contract signed by the Harper government and it couldn't be reversed. They can't use this excuse here. With enough public pressure, we can get a strong bill that makes sure Canadian weapons aren't being sold to regimes like the Sauds.
We only have a few days before amendments on the bill will be finalized. Will you write to the Foreign Affairs committee and ask them to strengthen it?
Here are the main two asks we have of the committee:
Ensure there are strict legal restrictions on approving weapons export permits for countries where there is a risk of human rights violations.
Put reporting requirements or restrictions on exports to the US. About 50% of the weapons we export go to the United States, and many of those weapons are resold to other countries. Not having transparency or regulations around what we export to the United States means that weapons we are making here may be ending up in the hands of human rights abusers.
Earlier this year, the Leadnow community came together to speak out against Canada's ongoing sale of arms to Saudi Arabia. Over 12 000 of you signed a petition calling for an arms embargo, and we delivered it together directly to Foreign Affairs Minister Chrystia Freeland's office in Toronto.
As lives hang in the balance, Canada has a duty to ensure we aren't putting corporate profits above human rights. Will you take 3 minutes to send an email to the committee now?
With gratitude,
Katelynn and Brittany on behalf of the Leadnow team
Sources
[1] http://www.macleans.ca/news/world/canada-is-back-just-not-in-yemen/
[2] https://reliefweb.int/report/yemen/yemen-humanitarian-bulletin-issue-29-20-november-2017
[3] https://www.theguardian.com/global-development/2017/oct/12/yemen-cholera-outbreak-worst-in-history-1-million-cases-by-end-of-year
[4] https://ipolitics.ca/2017/11/09/canadian-military-exports-saudi-arabia-exploded-2016/
[5] https://www.theglobeandmail.com/news/politics/canada-now-the-second-biggest-arms-exporter-to-middle-east-data-show/article30459788/
[6] https://www.theglobeandmail.com/news/politics/former-dion-human-rights-aide-pans-ottawa-arms-control-plans/article37090638/
[7] http://www.rideauinstitute.ca/wp-content/uploads/2017/11/ATT-Report-Bill-C-47-Oct31.pdf
[8] http://www.huffingtonpost.ca/thomas-woodley/canada-cant-pass-this-highly-flawed-arms-trade-bill-as-is_a_23277569/
[9] https://www.theglobeandmail.com/news/politics/liberal-bill-leaves-major-hole-in-arms-trade-treaty-obligations-study/article36796196/
[10] see 4
---
Please support the Leadnow.ca community! We're funded by people like you, and our small, dedicated team and growing community make sure your donation goes a long way. Every dollar helps. You can donate online at http://www.leadnow.ca/en/donate
Leadnow.ca is an independent campaigning community that brings Canadians together to hold government accountable, deepen our democracy and take action for the common good. You can follow us on Twitter, Facebook and Google+.