Details

Published on Sunday, 29 November -0001 18:00
Written by editor
You can fight back against power-hungry lobbyists and politicians to win fair voting for everyone!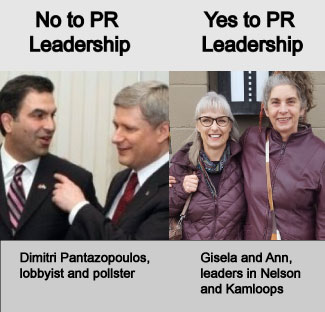 A few weeks ago, BC Liberal leader Andrew Wilkinson vowed to make killing proportional representation his number one priority in 2018 - and to spend millions to do it.
The opponent group's submission to the BC government recommends that corporations be allowed to donate to the referendum campaign and that there be no limits on third party advertising. British Columbians want Big Money out of politics - the NO side wants it back in.
Bill Tieleman is a professional, paid lobbyist for 17 organizations or companies.
One of his partners in the NO campaign, Dimitri Pantazopoulos, is former pollster for the Republicans, Rob Ford, and federal Conservatives. Pantazopoulos has been a paid lobbyist for 18 organizations or companies, including Glacier Media and Black Press. He was fined in 2016 by BC's Lobbyist watchdog for breaking the rules.
Here's the deal: Research shows that proportional representation makes it harder for elites and their lobbyists to extract the policies they want. That's why lobbyists hate PR.
For lobbyists, the stakes are high. It's harder to get a cooperative government of two or three parties to write the laws they want if those laws don't have real majority support of voters.
This week, the NO campaign singled out and attacked Fair Vote Canada BC, accusing our volunteers of being "back room hacks" who "stuff ballot boxes."
If NO side lobbyists are attacking PR volunteers, it's because what we're doing is working.
This campaign is just getting started, and we already have 20 local teams - volunteers talking to voters in their communities about why BC is ready to vote YES to making every vote count.
Our teams need your support so we can keep taking on those who who are fighting to keep the benefits they enjoy with first-past-the-post!
Please consider stepping up to become a monthly donor today.
We have no corporate or big party donors with deep pockets to fund our campaigns. We have individuals like you willing to take a stand for a better democracy.
In the last two weeks alone, almost 1000 new people have signed the BC Vote Pledge online so we can get out the vote - thanks to the social media advertising you made possible!
This year is critical. Please become a monthly donor to help win PR and let's achieve equal votes together.
Sincerely,
Anita Nickerson
Acting ED, Fair Vote Canada
P.S. Want to hear how PR works in other countries? Tune into our webinar on Sunday with guests from Australian Capital Territory and a BC PR supporter originally from the Netherlands!
Fair Vote Canada / Représentation équitable au Canada
283 Danforth Avenue #408
Toronto,

ON

M4K 1N2




Canada