Details

Published on Sunday, 29 November -0001 18:00
Written by editor
I've been at Leadnow since 2013 and I've never seen a day of action this big come together this quickly.

Yesterday, at more than 100 snap actions across the country, the Leadnow community showed up massive numbers to show Trudeau that we won't let him use our tax dollars to buy Kinder Morgan's failing pipeline and tanker project.

Here are some of my favourite photos from the National Day of Action to Stop the Kinder Morgan Buyout: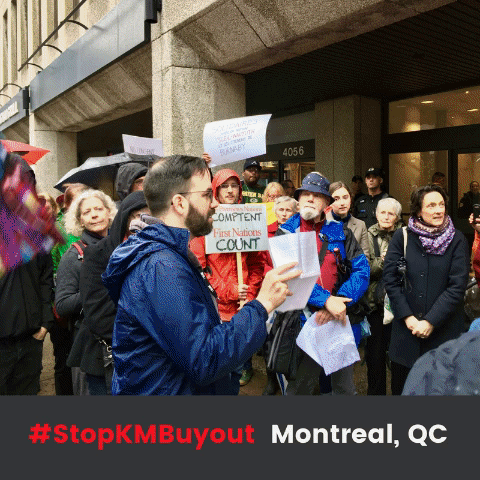 It was a team effort, with huge support from too many organizations to name. The fact that we managed to pull off a massive National Day of Action in just 6 days shows that despite Trudeau's continued attempts to ram... the pipeline through --
the resistance to Kinder Morgan's failing pipeline project is only growing.
Thousands of you turned out to your local actions with signs and banners to make your voices heard, and your message was amplified through massive media coverage, including the
top story on CBC, and dozens of local media stories.
[1]
And the Liberals felt the heat.
Reporters in Ottawa grilled Environment Minister Catherine McKenna for a response to the Day of Action -- and she was clearly flustered. [2]
Together, we've sent a powerful warning to the Liberals
-- that if they follow through with plans to build the pipeline, they're going to face unbelievable backlash from every corner of the country.
And this is just the beginning.
With hope and respect,
Jolan, Logan, Chloe, Rachel, Devin and Jen on behalf of the entire Leadnow team
PS -
later today our MPs will vote on a motion from NDP MP Romeo Saganash calling on the government to respect the rights Indigenous Nations to say no to dangerous energy projects like the Kinder Morgan pipeline.

Just a few days ago the Liberals voted to implement the United Nations Declaration on the Rights of Indigenous People -- which requires the free prior and informed consent of First Nations for any project in their territory. Now we'll see if they're going to uphold that promise.
Click here to call you MP to urge them to vote in support of the motion to respect the rights of Indigenous Nations fighting Kinder Morgan:
https://act.leadnow.ca/uphold-
UNDRP/
Sources: [1]
http://www.cbc.ca/news/canada/
british-columbia/protesters-
rally-across-canada-over-
trans-mountain-pipeline-
decision-1.4691338
[2]
https://www.facebook.com/
nationalobserver/videos/2187727761243322/
---
Leadnow doesn't take handouts from corporations or political parties. Everything we achieve together is only possible because of ordinary people like you chipping in what they can. Please will you consider donating a few bucks a week to Leadnow? Click here to set up a secure donation: http://www.leadnow.ca/donate
---
Leadnow does not accept any financial support from corporations or political parties. Everything we do together is the result of the work of normal people, like you, who give what they can. Could you give a few dollars a week to Leadnow? Click here to donate to a secure site: http://www.leadnow.ca/donate
---
Leadnow.ca is an independent campaigning community that brings Canadians together to hold government accountable, deepen our democracy and take action for the common good. You can follow us on Twitter, Facebook and Google+.