Details

Published on Sunday, 29 November -0001 18:00
Written by editor

Enter our Pro Rep Video or Photo Contest!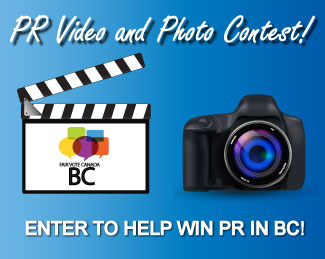 Fair Vote Canada BC is excited to announce a new way you can help us reach more BC voters: A proportional representation video and photo contest!

Can you make a short, engaging video that will capture the attention of BC voters?
Or create an eye-catching or thought-provoking photo/graphic?
Between now and September 30, you can submit a video or photo/graphic aimed at helping us win proportional representation in British Columbia. We'll post videos and photos on an ongoing basis as we receive and approve them.
The link to the photo contest is here:
The link to the video contest is here:
On September 30, the creator of the video with the most VIEWS on youtube will be awarded $750 and creator of the photo/graphic with the most VOTES on our contest page will be awarded $250.
We're looking for that video and photo that might go viral.
Elections BC will produce informational videos on systems. These kinds of informational videos have a lot of value but we're not looking for homemade versions of that.
If you'd like to see what's already out there along those lines, visit: www.youtube.com/FairVoteCanada. You can also search youtube for videos from the BC-STV referendum, the Ontario MMP referendum, the NZ referendum, and the PEI plebiscite.
We all know how challenging it is to reach voters about this issue in a way that connects with them on an emotional, gut level - but that is what we need to do.
Can you make something that will:
Make people laugh
Make people cry
Make people angry
Make people hopeful

Make people realize this issue is about the lives of human beings, not pie charts, ballots and numbers

Tackle what this choice is really about for people in a creative way that hasn't been done before
In the UK referendum on electoral reform, despite the YES campaign spending 5 million dollars (lots of resources to make professional videos), the video that got more views than the professional videos done by either side was an amateur video starring cats.
HINT: Animal videos are GREAT!
Fair Vote Canada's most popular video ever was a comedy (First-past-the-pizza).
This time, we need to do even better!
Please share this contest widely with your friends and let's make history together.
Sincerely,
Anita Nickerson
Acting ED, Fair Vote Canada
Gisela Ruckert
President, Fair Vote Canada BC
P.S. Very Important: Please read the full contest rules here:
https://docs.google.com/document/d/13f-kRcaojv5C1oEsAA5ehCXswEsebmQMxKiEJqAoHQE/edit?usp=sharing

Fair Vote Canada / Représentation équitable au Canada
283 Danforth Avenue #408




Toronto

,

ON

M4K 1N2




Canada