Details

Published on Sunday, 29 November -0001 18:00
Written by editor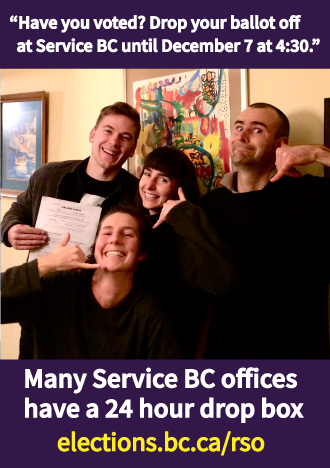 This referendum is a nail biter. Every poll puts the two sides neck in neck, with Too Close to Call predicting that if the ballots were counted on November 24, the NO side would win by just 2%. But the important news is: The ballots from ridings where people are most likely to vote YES are arriving and we're gaining momentum!!
We CAN win this! But we only have 7 days left to do it.
Here's how you are making the difference:
The Phone Bank - friendly calling
We can't stress strongly enough how the volunteers making these calls are the most powerful tool we have to win this referendum.
First, the good news, from our Call Hub phone bank coordinator:
Team Fair Vote Canada has made 11,479 calls for a total of 245 hours of talk time. This is double the participation of the next highest team on Call Hub. We have people calling from as far away as New Brunswick and many callers in Ontario calling late into the night to reach people in the evening in BC. Fair Vote Canada is consistently the best calling team each week. 9 out of the top 10 calling agents are with team Fair Vote Canada. We finished calling all the people on our Fair Vote Canada lists several weeks ago and are calling other friendly lists, getting those ballots in!
Now the bad news:
There are literally tens of thousands of people on phone lists we could call who are HIGHLY LIKELY to support PR but may not vote unless they get that phone call. But we don't have enough volunteers to call them all!
We're not calling people from the phone book - these are almost all friendly people who support organizations that support PR. But their ballots may be sitting under their sofa right now!
You don't need to explain systems or be an expert - just someone who cares about a better democracy! How many of these conversations we have now could win or lose this referendum.
Can you give a few hours in these final few days? If so, SIGN UP HERE NOW and we'll send you instructions to get onto Call Hub to call at your convenience!
We know calling isn't easy for many people. Lots of us are shy! And some people for various reasons can't use the Call Hub system (it uses your computer). If you only want to call people who are 99.99% PR supporters (Fair Vote Canada supporters) and have very likely voted, where you're mainly just checking to make sure and asking them to talk to friends, we can give you that list to call from your home phone instead! If you can do that, just reply to this email.
Email, text or phone a friend while there's still time
One of our supporters decided to take a risk and email every person he knows, going back to people he hasn't spoken in 20 years, asking them to vote for PR in this referendum. He emailed over 800 people. This referendum was that important to him.
This is the kind of response he got, from someone he hadn't seen in over ten years:
"Thank you so much for this precious and inspiring explanation. Yes, I will vote in accordance to your recommendations and drop off my vote at the Service BC Referendum office."
Would you consider doing a similar thing - emailing your friends? Feel free to ask us for help you with examples of what you might want to say, but the perfect words, facts, arguments are not what's most important. What's most important is that they can see that you cared enough about this issue to reach out personally. When 60% of ballots have not been returned yet, it's guaranteed your efforts will make a difference!
We're almost there
During this campaign, we've done everything that's humanly possible as a volunteer-driven citizens organization.
The simple thing that can win this referendum for us all now is: Your conversation with another person.
Will you do it?
Please join the phone bank and email a friend today.

Anita Nickerson
Acting Executive Director, Fair Vote Canada

Gisela Ruckert
President, Fair Vote Canada BC

Fair Vote Canada / Représentation équitable au Canada
283 Danforth Avenue #408




Toronto

,

ON

M4K 1N2




Canada