Details

Published on Sunday, 29 November -0001 16:00
Written by editor
We just launched our fossil-free fashion scorecard. See which brands need to take climate action.‌ ‌ ‌ ‌ ‌ ‌ ‌ ‌ ‌ ‌ ‌ ‌ ‌ ‌ ‌ ‌ ‌ ‌ ‌ ‌ ‌ ‌ ‌ ‌ ‌ ‌ ‌ ‌ ‌ ‌ ‌ ‌ ‌ ‌ ‌ ‌ ‌ ‌ ‌ ‌ ‌ ‌ ‌‌ ‌ ‌ ‌ ‌ ‌ ‌ ‌ ‌ ‌ ‌ ‌ ‌ ‌ ‌ ‌ ‌ ‌ ‌ ‌ ‌ ‌ ‌ ‌ ‌ ‌ ‌ ‌ ‌ ‌ ‌ ‌ ‌ ‌ ‌ ‌ ‌ ‌ ‌ ‌ ‌ ‌ ‌‌

Hot off the press! Our second industry-leading Fossil-Free Fashion Scorecard is here.

Building on the success of the 1st edition, our scorecard breaks down the climate policies and efforts of 47 of fashion's most popular brands. And here's a little teaser...in a sea of "F's" there's only one "B-".
The recent IPCC report made it very clear that burning fossil fuels, like coal, cannot continue if we want a liveable and climate-safe world. As we face unprecedented devastation of the planet, big polluter corporations should have climate goals that score more than a "B-".
But since we can't tackle all 47 brands at once at Stand.earth, we're starting with the big climate-talkers and urging them to walk the walk by cleaning up their emissions. Lululemon, Under Armour, and Athleta have all publicly announced their dedication to reducing their impact on the environment, and we've got a great starting place for them. Ditch coal and other fossil fuels and go 100% renewable by 2030.
Click here to add your name to the petition and call on Lululemon, Under Armour, and Athleta to live up to their climate promises by phasing out fossil fuels, like coal, from their manufacturing.
ADD YOUR NAME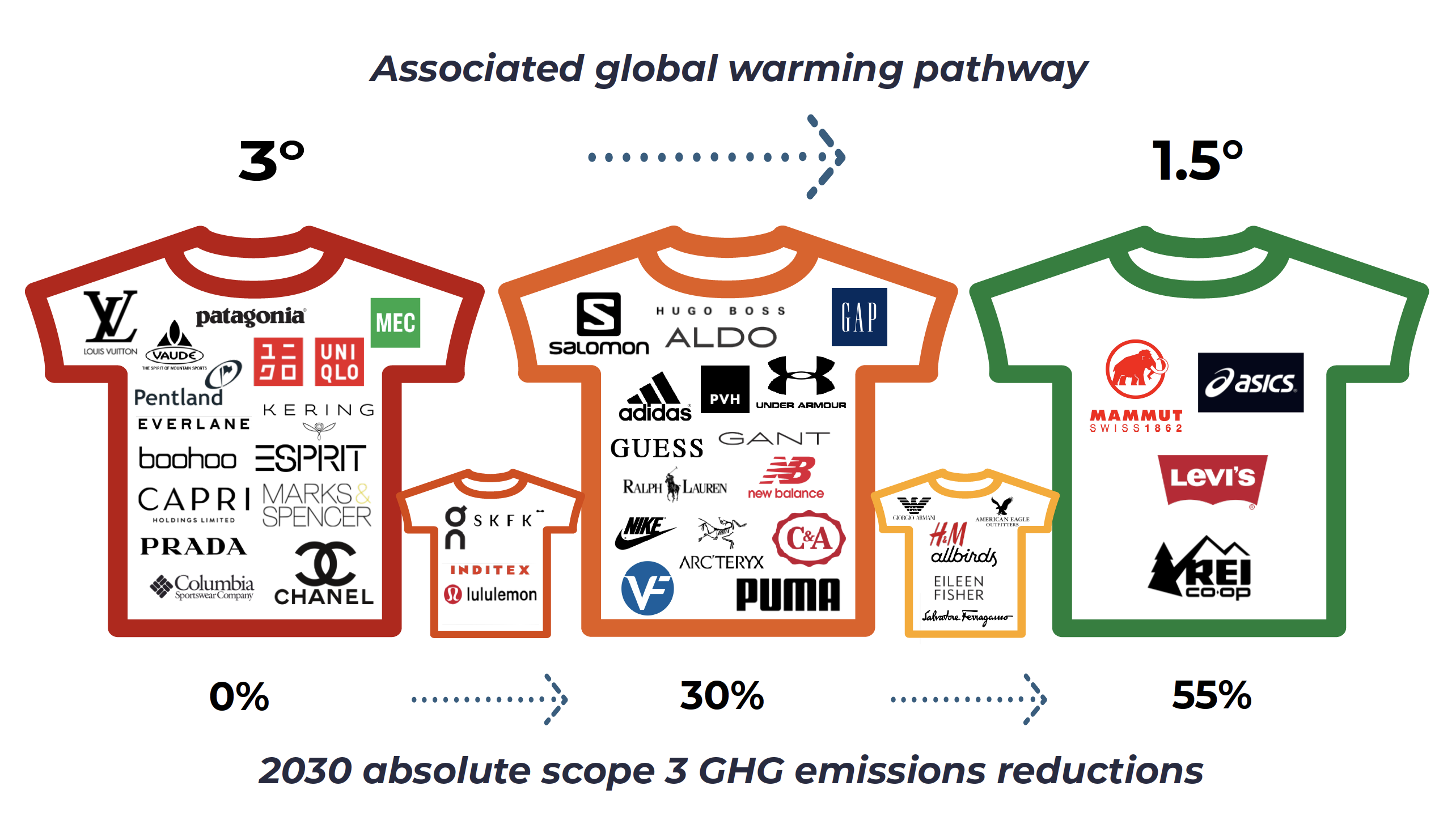 In 2019, the 47 companies evaluated in our scorecard collectively imported more than 216,682 metric tonnes of apparel and related goods from Vietnam into the United States alone.¹ What is alarming about that is, in Vietnam coal powers 47% of the electricity grid. In addition, coal-fired water boilers, used in the fabric dyeing and finishing processes, are another major contributor to GHG emissions that have a deadly impact on local communities and their health.
So, when "climate-conscious" brands like Lululemon, Under Armour and Athleta only focus on outfitting their stores and offices with renewable energy and invest in carbon offsets, instead of getting rid of coal, it leaves out the largest chunk of their emissions. As athletic wear companies heavily reliant on synthetic materials, they also must focus on phasing out plastic fabrics like polyesters in order to truly be climate leaders in the industry.
Urge these brands to lead the fashion industry away from fossil fuels and onto renewable energy and sustainable fabrics. Sign here.
When we released the first Fossil-Free Fashion Scorecard, it sent shockwaves through the industry and companies like, Levi's and American Eagle Outfitters were early front runners eager to clean up their climate pollution. Now, with the second rendition of the scorecard, we have highlighted crucial impact areas for brands to focus on to flush fossil fuels out of their systems.
And your role in all this will be vital as we ramp up our campaign, because fashion brands are the most receptive to what their clients want. Are you in?
At Stand, transforming companies from climate polluters to climate leaders is kind of our jam. Our community of over half a million has been holding governments accountable, blocking new tar sands projects, protecting millions of acres of sacred forests, and turning billion-dollar corporations into climate leaders.
Thank you for being part of this team, and standing up for the environment.
In solidarity,
Erdene Batzorig
Digital Campaigner + Fashionista
Stand.earth
P.S. To see how your favorite fashion brands are doing on their climate goals, visit our new scorecard website here.
¹Fossil-free fashion scorecard, Stand.earth
---
Stand.earth challenges corporations, industries, and governments to prioritize the well-being of people, our environment, and our climate by creating long-term, effective solutions. None of this work is possible without your support.
DONATE $5
San Francisco office: 548 Market Street, Suite 74196, San Francisco, CA 94104-5401
On traditional Chochenyo and Karkin Ohlone Lands
---
Bellingham office:
1329 N State St., Suite 302 Bellingham, WA 98225
On traditional Lummi and Nooksack Lands
---
Vancouver office: 5307 Victoria Drive, Suite 347, Vancouver, BC V5P 3V6
On Unceded Territories of the
səl̓ílwətaʔɬ
, xʷməθkwəy̓əm, and Skwxwú7mesh Nations