Details

Published on Sunday, 29 November -0001 16:00
Written by editor
We can still protect the Fraser River from FortisBC's LNG project ‌ ‌ ‌ ‌ ‌ ‌ ‌ ‌ ‌ ‌ ‌ ‌ ‌ ‌ ‌ ‌ ‌ ‌ ‌ ‌ ‌ ‌ ‌ ‌ ‌ ‌ ‌ ‌ ‌ ‌ ‌ ‌ ‌ ‌ ‌ ‌ ‌ ‌ ‌ ‌ ‌ ‌ ‌ ‌ ‌‌ ‌ ‌ ‌ ‌ ‌ ‌ ‌ ‌ ‌ ‌ ‌ ‌ ‌ ‌ ‌ ‌ ‌ ‌ ‌ ‌ ‌ ‌ ‌ ‌ ‌ ‌ ‌ ‌ ‌ ‌ ‌ ‌ ‌ ‌ ‌ ‌ ‌ ‌ ‌ ‌ ‌ ‌‌

This is it – we're down to the wire. There's just one week left to submit a comment opposing FortisBC's Tilbury LNG expansion if we want to protect the Fraser River and the salmon that depend on it to survive.

The first step in expanding Tilbury LNG is building a jetty – and the BC Environmental Assessment Office (BC EAO) is currently accepting public comments that will determine if the project will live or die.
Will you use our easy one-click fax tool to submit a comment before the September 7th deadline and convince the BC EAO to stop Tilbury's dangerous LNG project? We have suggested talking points to guide you.
SUBMIT A COMMENT
We know our pressure is working. We even heard feedback that officials at the BC EAO are overwhelmed by the sheer number of comments being submitted by folks like yourself. But that doesn't mean we can slow down, because many comments in support of the project have been submitted too.
We need to speak up on behalf of all the B.C. residents who haven't even heard about this project, or the devastating impacts it would have on the climate and on endangered species. The stakes are too high to remain silent.
Add your comment to the thousands of others already submitted and help make sure this dangerous fracked gas project never sees the light of day.
Together, we can protect this critical region from FortisBC's expansion plans.
In solidarity,
Kiki Wood
Senior Oil and Gas Campaigner
Stand.earth
---
The message we sent you earlier:

The Fraser River is the longest river in British Columbia, carrying spring water all the way from the Rockies to the Strait of Georgia in Vancouver. It is one of the most important rivers in the world for wild salmon and feeds into the home waters of Southern Resident Killer Whales.

It's also where FortisBC is currently trying to expand its Tilbury LNG terminal.
Most B.C. residents haven't even heard about this project, let alone its potentially devastating impacts on the climate and on endangered species.
Fortunately, it's not too late to make your opposition known and help stop the project in its tracks. The first step in expanding Tilbury is building a jetty for transporting the LNG – and the BC Environmental Assessment Office (BC EAO) is currently accepting public comments that will determine if the project will live or die.
Click here to submit a public comment raising your concerns using our online fax tool (yes, a fax machine in 2021) and tell the BC EAO to reject the Tilbury expansion project.
STOP TILBURY LNG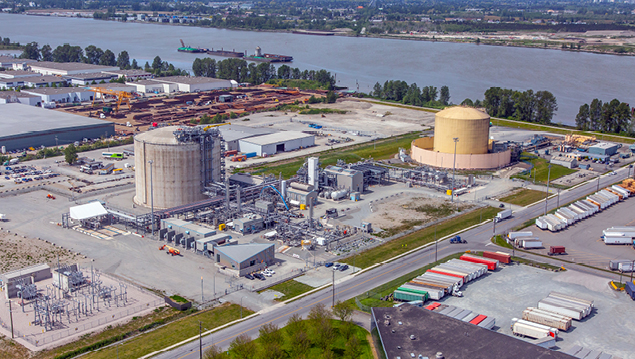 An aerial photo of the existing Tilbury LNG plant, that FortisBC wants to expand
If the project is allowed to go ahead, the Tilbury LNG expansion and its accompanying jetty could threaten some of the most important salmon runs on the West Coast. The resulting increase in tanker traffic could also harm endangered Southern Resident Killer Whales, due to greater ship noise in their critical habitat. These are the same whales whose critical habitat is already being threatened by the Trans Mountain pipeline.
It could also spell the end for endangered fish like the Eulachon – a species that nearby Indigenous communities rely on, and a population of Steelhead fish with a mere 40 adults who returned to spawn last spring.
But hey, it's all worth it if it means more 'clean' LNG, right? Wrong.Despite what you may have heard peddled by the government, LNG is almost as bad for the climate as burning coal. Using it for ship fuel (one of the main purposes of the Tilbury expansion), is even worse than the dirty fuels currently used by the shipping industry. Expanding an LNG plant in Metro Vancouver also means more harmful fracking in northern B.C. – adding even more highly polluting methane to the atmosphere and producing swimming pools worth of radioactive fracking waste.
We have just a few short weeks to make our concerns heard while the BC EAO is accepting pubilc comments about FortisBC's proposal.
Will you take one minute to register your opposition using our one-click online fax tool? Help flood the comment period and show that Tilbury LNG is clearly not 'in the public interest.'
We're so glad you're part of this campaign and part of the Stand.earth online community. Over the last year, we've been building some exciting momentum in the fight to stop Tilbury LNG. Stand members in Richmond and Delta – who are facing the risk of this project running through their backyards – have been flooding the inboxes of their MLAs. Thousands of others across B.C. have now signed the petition against Tilbury. Last month, a group gathered at the project site for an important physical protest (grateful we can do that now!) – and that's just the start.
Now we need to focus our collective energy into the BC EAO's latest public comment process, because we know that every single comment will be counted and weighed up against submissions from project proponents.
We can't risk pro-LNG lobbyists taking over the comment period and pushing the proposal ahead. Will you help drown them out and use our one-click tool to sound the alarm about the Tilbury LNG expansion?
Thank you for taking action,
Kiki Wood
Senior Oil and Gas Campaigner
Stand.earth
---
Stand.earth challenges corporations, industries, and governments to prioritize the well-being of people, our environment, and our climate by creating long-term, effective solutions. None of this work is possible without your support.
DONATE $5
San Francisco office: 548 Market Street, Suite 74196, San Francisco, CA 94104-5401
On traditional Chochenyo and Karkin Ohlone Lands
---
Bellingham office:
1329 N State St., Suite 302 Bellingham, WA 98225
On traditional Lummi and Nooksack Lands
---
Vancouver office: 5307 Victoria Drive, Suite 347, Vancouver, BC V5P 3V6
On Unceded Territories of the
səl̓ílwətaʔɬ
, xʷməθkwəy̓əm, and Skwxwú7mesh Nations