Details

Published on Sunday, 29 November -0001 16:00
Written by editor
Content warning: this email includes details of police violence ‌ ‌ ‌ ‌ ‌ ‌ ‌ ‌ ‌ ‌ ‌ ‌ ‌ ‌ ‌ ‌ ‌ ‌ ‌ ‌ ‌ ‌ ‌ ‌ ‌ ‌ ‌ ‌ ‌ ‌ ‌ ‌ ‌ ‌ ‌ ‌ ‌ ‌ ‌ ‌ ‌ ‌ ‌‌ ‌ ‌ ‌ ‌ ‌ ‌ ‌ ‌ ‌ ‌ ‌ ‌ ‌ ‌ ‌ ‌ ‌ ‌ ‌ ‌ ‌ ‌ ‌ ‌ ‌ ‌ ‌ ‌ ‌ ‌ ‌ ‌ ‌ ‌ ‌ ‌ ‌ ‌ ‌ ‌ ‌ ‌‌

Since August 9th, Indigenous land defenders and their allies at Ada'itsx/Fairy Creek have been facing an escalation in police violence as they continue to peacefully protect some of the last standing old growth in B.C.

Over the past several weeks, videos, photos and verbal reports of this violence and illegal enforcement tactics of the Teal Jones' injunction have been brought to the public's attention, yet the B.C. NDP continues to remain silent. This is not only unacceptable, it is abhorrent.
Those who have been on the frontlines for over a year need fellow B.C. residents to show their solidarity and speak up against this violence. The number of complaints that have already flooded the Civilian Review and Complaints Commission (CRCC) for the RCMP are making headlines [1], but the violence is continuing. We need to keep up the pressure to demand the RCMP stand down.
Will you take five minutes to call Premier Horgan and Minister of Safety Mike Farnworth to make a formal complaint about the police violence at Ada'itsx/Fairy Creek?
CALL NOW
People's safety – especially that of Black, Indigenous, and People of Colour (BIPOC) who have been repeatedly targeted on the frontlines by the RCMP – is being jeopardized to protect corporate profit. As our society continues to reckon with the genocide of Indigenous peoples and overpolicing of BIPOC on stolen land, we are reminded that colonial violence is ongoing and that we must do better to keep everyone safe. That includes holding elected politicians accountable, because their inaction has led to this conflict.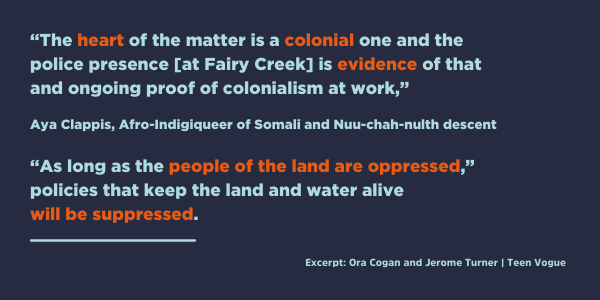 We have seen the government put corporate profit over people's safety, rights and the health of the environment time and time again. Between 2019-2021, nearly $20 million was spent on police enforcement of the Wet'suwet'en blockades – in which Indigenous land defenders were resisting the construction of the Coastal GasLink pipeline on their territory. With the high rate of arrests and sheer scale of enforcement at the Ada'itsx/Fairy Creek blockades, police spending must be well into the millions yet again. Once more, the RCMP are violating the terms of the injunction order. On July 20, 2021, the B.C. Supreme Court publicly stated that the RCMP's use of "exclusion zones" to place certain areas off limits to land defenders, members of the media and observers was unlawful.
From blocking off roads limiting access to broad swaths of the region, to restricting members of the media from documenting arrests (and then arresting the media), to numerous reports of verbal, physical and sexual assault – it is evident that this situation has become critically dangerous for those on the ground.
Last Monday, communities around the province took to their local police detachments to demand that the RCMP stand down. We need to keep making noise until this conflict is resolved and those on the frontlines protecting some of the last old growth in B.C. are safe.
Make your phone calls now with our easy-to-use action tool – we even have talking points to support you in your conversations with decision-makers.
This incredible community is growing by the day, and it's been so heartening to witness the frontline resistance building across the province. Just last month, we delivered your old growth petition with over 150,000 signatures to the footsteps of the B.C. legislature. Solidarity actions have been held almost daily and more constituents are lighting a fire under their MLAs to pressure decision makers internally. If we keep at it, we're confident that we'll see a long awaited transition from old growth logging.
The Stand.earth community is now over half a million people strong and growing. With this much people power, we know we can keep incredible old growth giants off the chopping block and build a just future for all communities where everyone is safe.
Thank you for standing with forest defenders at Ada'itsx/Fairy Creek,
Tegan Hansen
Forest Campaigner
Stand.earth
P.S. If you want to go one step further, you can file a complaint to the Civilian Review and Complaints Commission for the RCMP online by clicking here.
[1] Watchdog gets over 90 complaints on RCMP enforcement at Fairy Creek, National Observer, August 26th 2021
---
Stand.earth challenges corporations, industries, and governments to prioritize the well-being of people, our environment, and our climate by creating long-term, effective solutions. None of this work is possible without your support.
DONATE $5
San Francisco office: 548 Market Street, Suite 74196, San Francisco, CA 94104-5401
On traditional Chochenyo and Karkin Ohlone Lands
---
Bellingham office:
1329 N State St., Suite 302 Bellingham, WA 98225
On traditional Lummi and Nooksack Lands
---
Vancouver office: 5307 Victoria Drive, Suite 347, Vancouver, BC V5P 3V6
On Unceded Territories of the
səl̓ílwətaʔɬ
, xʷməθkwəy̓əm, and Skwxwú7mesh Nations