Details

Published on Tuesday, 07 March 2017 17:45
Written by editor
I have some great news. Last week we asked the Leadnow community if you wanted to keep working on voting reform after the Liberals announced they were abandoning the promise -- and a whopping 92% of you said yes! 
Now that we know you're in, we can keep working to pressure the Liberals to change their mind. Our small staff team and volunteers have been working around the clock to brainstorm, plan, and organize a hard-hitting strategy to get electoral reform back on the table. 
In the past two weeks, we've already done so much together. As soon as we heard the Liberals were abandoning their promise, the Leadnow community snapped into action, channeling our outrage and making it clear to MPs that voters won't forget this broken promise.
Here's a snapshot of what your Vote Better campaign has been up to since the Liberals' broken promise -- and a glimpse of the longer-term plan we'll be rolling out shortly. 
A giant broken promise billboard
Last week we found ad space just outside the Ottawa airport where we're going to plaster a massive billboard that every MP will see as they're coming in and out of town. Thanks to donations from hundreds of you, this message is going up right away:

The Liberals hope we're going to forget their  broken promise. They're trying to sweep it under the rug by focusing on other issues, so media attention and public outrage slowly dissipates. Putting this message up where we know they can't ignore it sends a powerful message that voters haven't forgotten -- and we aren't going away.
Thanks to small donations of $5, $10 and $25 from you, we were able to jump on this billboard opportunity when we saw it and get it up quickly. Now, we want to keep the billboard up for as long as possible, so that every single time MPs, senior advisors, Minister Gould or Prime Minister Trudeau come in and out of Ottawa, they'll be reminded of their betrayal. Can you chip in now so we can keep it up for a full month?
Yes, I'll chip in to keep the billboard up
MP visits
Over 300 of you signed up to meet your MP to tell them face to face that you want voting reform back on the table. Thousands more have made phone calls or sent emails to their MPs. We've also been seeing letters to the editor popping up in community papers from coast to coast to coast -- all with the same unified message: this broken promise is unacceptable and voters expect voting reform to be put back on the table.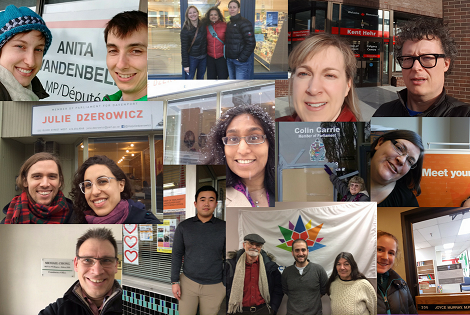 The Leadnow community is nothing if not scrappy. Even when the deck is stacked against us, the odds aren't on our side, or the obstacles seem too insurmountable, we don't give up -- we double down. 
We know how important getting rid of our broken "first past the post" voting system is to our democracy. With far-right candidates like Kellie Leitch and Kevin O'Leary leading the race for Conservative leadership, the stakes have never been higher. 
Now, we're fine-tuning an exciting plan to target vulnerable Liberal MPs over the next few weeks to get voting reform back on the table. We'll be rolling it out very soon, so please stay tuned to keep up the work together.
In the meantime, let's make sure MPs don't forget. Chip in to keep our hard-hitting billboard running for longer. 
https://secure.leadnow.ca/ea-action/action?ea.client.id=1694&ea.campaign.id=65250
Katelynn and Rachel on behalf of the Leadnow team
PS - Can't chip in but still want to help? Sign up here to visit your MP. You'll get a toolkit with tips and talking points to help you make a big impact!
---
Please support the Leadnow.ca community! We're funded by people like you, and our small, dedicated team and growing community make sure your donation goes a long way. Every dollar helps. You can donate online at http://www.leadnow.ca/en/donate
Leadnow.ca is an independent campaigning community that brings Canadians together to hold government accountable, deepen our democracy and take action for the common good. You can follow us on Twitter, Facebook and Google+.
---

Leadnow.ca - À l'Action est une communauté indépendante qui souhaite réunir les Canadiens afin de demander des comptes au gouvernement, approfondir notre démocratie et passer à l'action pour le bien commun. Suivre sur Twitter, Facebook, et Google+. 
Leadnow.ca, PO Box 2091, Stn Terminal, Vancouver, BC, V6B 3T2 — 1‑855‑LEADN0W | 1‑855‑532‑3609