Details

Published on Tuesday, 04 July 2017 12:30
Written by editor
We won! After weeks of pulling dirty tricks to try to hold onto power, Christy Clark's Liberal government has officially been defeated. BC's Lieutenant-Governor just invited the NDP to form government after Christy Clark lost a vote of confidence in the legislature — and thanks to a historic cooperation agreement struck last month, the NDP and Greens will govern the province together. [1]

This victory is big. After 16 long and painful years, the BC Liberals have lost their grasp on power in one of the most suspenseful elections in BC's history. Now we have an incredible opportunity to make progress on electoral reform, on climate, and getting big money out of politics. You played a huge role - your signatures, your votes, your donations, and your time were all part of making this groundbreaking election outcome a reality.  
There's so much celebrate about this election and the role people power played in getting the outcome we deserve. Will you share this celebratory graphic to spread the excitement and to show support for the new government? Click to share it to your Facebook page!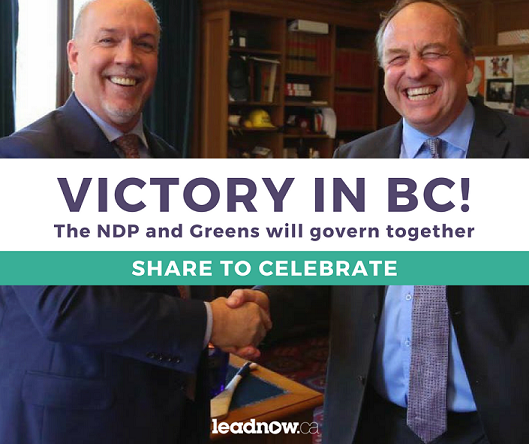 This election was hard-fought. We had to flex our people power if we were going to stand a chance of beating a political Goliath like Christy Clark. In the end, her cynical ploys and the powerful corporate interests that have propped her up for years were no match for ordinary British Columbians hungry for change.
It's amazing to think about all that we've achieved together — along with a host of other organizations across the province — over the past two and a half months.
Thousands upon thousands of petition signatures hand-delivered to decision-makers, hundreds of phone calls to new MLAs, organizing snap press conferences, making headlines across the province, flooding local papers with letters-to-the-editor, running hard-hitting radio ads, getting-out-the-vote in key battleground ridings - these are all things the Leadnow community did together to help defeat Clark. 
The Leadnow community's priority in the BC election was to defeat Christy Clark and elect a new government that's prepared to fight for the issues we care about. Now, we have so much to be hopeful for.
We were founded on the principle of cooperation. Our community includes members from all parties, and many people with no party affiliation at all. What unites us is our belief that we are stronger together and that a diversity of perspectives, along with a willingness to cooperate, strengthen our democracy and society.
There's a lot we don't know about what will happen next, but Leadnow's mission is bringing people together for a strong democracy, fair economy, healthy environment, and just society. Together we'll continue to do this work and push for these values with the new NDP-Green alliance.
Two things we do know for sure: 
1. When we work together, we win — even against all odds.
2. Christy Clark has been defeated — and as a result, BC's future is looking a lot brighter and more hopeful.
Take a moment to share this graphic and celebrate with your friends, family, and community. Tomorrow, we'll get back to work.
With thanks,
Logan, Jolan, Katelynn, Brittany and Rachel on behalf of the Leadnow team
P.S: This victory also means a referendum on electoral reform is on the horizon. We're going to jump right into preparing for it, and we'll need to get to work fast. Can you chip in to build our referendum war chest?
Sources
[1] Lt.-Gov. Judith Guichon asks NDP Leader John Horgan to form government and become premier, http://www.cbc.ca/news/canada/british-columbia/horgan-government-guichon-2017-1.4185204
---
Please support the Leadnow.ca community! We're funded by people like you, and our small, dedicated team and growing community make sure your donation goes a long way. Every dollar helps. You can donate online at http://www.leadnow.ca/en/donate
Leadnow.ca is an independent campaigning community that brings Canadians together to hold government accountable, deepen our democracy and take action for the common good. You can follow us on Twitter, Facebook and Google+. 

Leadnow.ca - À l'Action est une communauté indépendante qui souhaite réunir les Canadiens afin de demander des comptes au gouvernement, approfondir notre démocratie et passer à l'action pour le bien commun. Suivre sur Twitter, Facebook, et Google+.
Leadnow.ca, PO Box 2091, Stn Terminal, Vancouver, BC, V6B 3T2 — 1‑855‑LEADN0W | 1‑855‑532‑3609